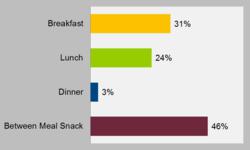 Chicago (PRWEB) April 03, 2013
Kids are eating 43 more meals at home each year than they did a decade ago and have influence over some but not all in-home eating occasions, finds new food market research by The NPD Group, a leading global information company. A recently released report by NPD finds that 31 percent of kids influence what they eat for breakfast but few control what they eat for dinner.
The food and beverage choices at breakfast and the morning snack are most heavily influenced by kids of every age, according to NPD's Generation Mom: How Moms Provide and Kids Influence Consumption Patterns in the Home report. Twenty-four percent of kids, ages 2-17, choose what to eat at lunch and only 3 percent decide what to eat at dinner. Between meal snacks are chosen by 46 percent of kids. Teens are more than twice as likely to influence what will be eaten for any in-home meal occasion.
"Stay at home dinners are quickly growing across all kids age groups, especially as tight budgets continue to restrict the amount of restaurant meals families can afford," says Darren Seifer, NPD food and beverage industry analyst. "More kids plus more meals being eaten at home represents a growing opportunity for food and beverage manufacturers. By understanding who controls the meal and what is commonly consumed at each meal, you can more effectively target your audience."
-30-
About The NPD Group
The NPD Group provides global information and advisory services to drive better business decisions. By combining unique data assets with unmatched industry expertise, we help our clients track their markets, understand consumers, and drive profitable growth. Sectors covered include automotive, beauty, entertainment, fashion, food / foodservice, home, office supplies, sports, technology, toys, video games, and wireless. For more information, visit http://www.npd.com and npdgroupblog.com. Follow us on Twitter: @npdgroup.