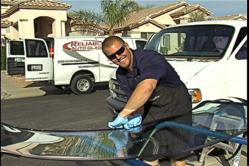 Reliable Glass is very fortunate to have a quality employee like Lynette represent our company.
Phoenix. Arizona (PRWEB) April 04, 2013
Reliable Auto Glass announced today that it will be celebrating the 10th year anniversary of one of its valued employees, Account Manager, Lynette McCain. The celebration will take place on April 5th, 2013 and will engage its employees from several of the Reliable Glass valley wide locations. Ms. McCain, who works side by side with the owner Greg Tornga at the Chandler location, has been quoted as saying, "It has been a great pleasure to work with a team that takes pride in customer service and satisfaction. Over the last 10 years, we have serviced the valley with quality auto glass replacement. We care about what we do, and it shows."
Greg Tornga quoted that, "Reliable Glass is very fortunate to have a quality employee like Lynette represent our company. Lynette has been instrumental to the growth of our company and its core values and reputation over the past 10 years. Her tenacity, persistence, and hard work is greatly appreciated by every employee at Reliable Auto Glass. Over the past 10 years, Lynette has delivered the message to the Phoenix Metro area of Reliable Auto Glass' commitment to excellence of all facets of Phoenix auto glass replacement and how passionate we are about our customer's experience. Because of employees such as Lynette, I know that our success will continue and that that we are all grateful."
Reliable Glass is family owned and operated, and has been serving Phoenix, Chandler, Tempe, and other Arizona valley locations with commercial, home and auto glass repair since 1999. Whether it is local car dealers, insurance agents, or your own auto and residential glass replacement needs, Reliable Glass offers a lifetime warranty on installations as long as you own your vehicle. Their technicians each have over 10 years of professional experience with quality glass repair and windshield replacement.
To learn more about Reliable Glass, visit http://www.ReliableAutoGlass.net
# # #
Media Contact:
Marcy Moore
MorePro Marketing