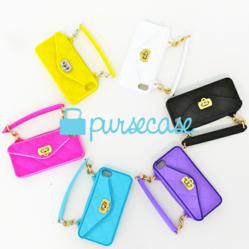 Santa Monica, CA (PRWEB) April 03, 2013
pursecase, the brand-new petite clutch designed with a girl's iPhone and essentials in mind successfully raised $35,114 from 200 backers on Kickstarter Friday, March 29th, at 5 p.m. EST.
As fashionistas and busy PR girls, pursecase co-creators Jenn Deese and Kelley Coughlan rely equally on functionality and style. So when it came to their protecting their iPhone — something so central to their careers and lifestyles — compromise was the last thing they were looking to do. What are two 21st century girls to do when they want the protection of a phone case, the practicality of a purse, and a chicness that exceeds both? They invent it, of course. And with that, pursecase was born.
The pursecase Kickstarter campaign ran for 30 days seeking $35,000 to fund the first round of mass production, and was successfully funded on March 29th.
"We are beyond excited to be moving forward with this product, which we wouldn't have been able to do without the support of our amazing backers and pursecase fans! We have now moved into mass-production and our first shipments will be arriving on customers' doorsteps in early June," said pursecase co-creator Jenn Deese.
"Since being funded we have launched our e-commerce site for pre-orders at pursecase.com and are in talks with major national retailers to carry our product. This dream of ours is quickly becoming a reality!" said pursecase co-creator Kelley Coughlan.
Notable backers for the project included "Rock Of Ages" actor Diego Boneta, who Instagrammed a picture of himself and a pursecase with the caption: "Check out & support the @pursecase #kickstarter campaign http://kck.st/Wf4fcg. I got one for my lil sis- she'll be #stylinanddialin! @qkitaaa." pursecase was also featured as the "Item of the Day" on Hello Giggles (http://hellogiggles.com/item-of-the-day-pursecase), was named "The Cutest iPhone Case Ever!" by the Recessionista™ blog, and was chosen as the "Kickstarter of the Week!" by MacTrast. Pursecase co-creators Kelley Coughlan and Jenn Deese were also the featured guests on LA Talk Live show "Living at 30,000 Feet" where they chatted with host James Kinney about their inspiration behind pursecase.
With patent pending on a unique design that includes the ability to hold any girl's essentials — cards, cash, phone, and a built in compact mirror — pursecase is not only chic, but sensible as well. Gone are the days of digging for a lost phone inside a black-hole handbag and missing that oh-so-important call!
pursecase embodies the height of fashion and utility, but never at the price of individuality, with the choice of teal, pink, purple, black, white or limited edition neon yellow (glow-in-the-dark!) for iPhone 4/4S or iPhone 5. The pursecase team will be unveiling designs for the Samsung Galaxy and other smartphone and tablet models as well in the near future.
Pursecase is now available for pre-order via their recently launched e-commerce site at http://www.pursecase.com. Pursecase is also on Facebook, Twitter, and Instagram @pursecase #stylinanddialin
About Kickstarter:
Kickstarter is an online funding platform for creative projects. Everything from films, games, and music to art, design, and technology. Kickstarter is full of ambitious, innovative, and imaginative projects that are brought to life through the direct support of others.
Every kickstarter project creator sets their project's funding goal and deadline. If people like the project, they can pledge money to make it happen. If the project succeeds in reaching its funding goal, all backers' credit cards are charged when time expires. If the project falls short, no one is charged. Funding on Kickstarter is all-or-nothing.
Since its launch in April 2009, over $450 million has been pledged by more than 3 million people, funding more than 35,000 creative projects.
For media requests, or to speak with Jenn Deese or Kelley Coughlan, please contact: Chase Freeman, Melrose PR, chase(at)melrosepr(dot)com, (310) 450-7960