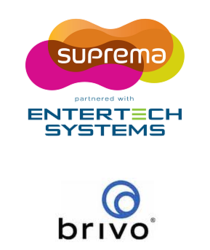 ENTERTECH SYSTEMS' value-added approach of building a standard connector to our DataSync API enhances the appeal of the combined Brivo/Suprema offering by reducing the complexity and operational costs normally associated with biometric deployments
Amherst, New York (PRWEB) April 03, 2013
Suprema partnered with ENTERTECH SYSTEMS (http://www.entertechsystems.com) today announced a new technology and go-to-market agreement with Brivo Systems, LLC (http://www.brivo.com) to offer Suprema's line of biometric readers for Brivo's cloud-based access control systems. ENTERTECH SYSTEMS' BioConnect (http://www.entertechsystems.com/bioconnect) application will be available through Brivo to help their customers with access control integrations in the second quarter of this year.
"ENTERTECH SYSTEMS' value-added approach of building a standard connector to our DataSync API enhances the appeal of the combined Brivo/Suprema offering by reducing the complexity and operational costs normally associated with biometric deployments," said John Szczygiel, Executive Vice President of Brivo Systems, LLC. "We believe in basing access control authorizations on sound identity authentication. This partnership with ENTERTECH SYSTEMS and Suprema helps us to deliver a stronger user authentication solution to our customers."
"This new technology partnership between ENTERTECH SYSTEMS and Brivo means customers can now benefit from the combined "BioConnect for Brivo" solution to easily offer Suprema biometric readers for advanced template management," said Rob Douglas, CEO of ENTERTECH SYSTEMS. "Our goal is to ensure Brivo customers can easily overcome the three main obstacles to mainstream adoption of biometric access control – high cost, complexity and difficult user onboarding."
The BioConnect application from ENTERTECH SYSTEMS allows for Suprema's biometric readers to be offered with "certified" access control systems such as Brivo. Instead of having to manage badge records in two different systems (one for the access control panel and another for the biometric templates), BioConnect seamlessly syncs users between these two types of systems. Using a simple enrollment window, users can search for a user/badge and add biometric templates.
BioConnect will be demonstrated at the security industry's premier exhibition, ISC West (http://www.iscwest.com) held at the Sands Convention Center in Las Vegas from April 10 to 12. ENTERTECH SYSTEMS will be at event, participating within the Brivo exhibition display at booth #19107 and at the Suprema/Entertech exhibition display at booth #24101. To meet with representatives from ENTERTECH SYSTEMS at ISC West, email info(at)EnterTechSystems(dot)com.
As the US, Canada and Puerto Rico operating partner for Suprema and its family of biometrics (finger, face, card & PIN), biometric algorithm, SDK, IP Access Control application software products – products and solutions that will be showcased at ISC West are also available to partners and customers in these countries through visiting ENTERTECH SYSTEMS online at http://www.EnterTechSystems.com.
-30-
About Brivo Systems
Brivo Systems, LLC is the worldwide leader of cloud-based, physical access control and video security systems. When introduced in 2001, Brivo's cloud-hosted and cloud-managed security was a unique solution—after a decade of evolution and innovation, it still is. Because it's a true SaaS solution, onsite servers are eliminated, minimizing costs and IT burdens, while dramatically simplifying worldwide deployment and security management. Brivo provides unmatched flexibility and scalability for organizations around the globe, within multiple industries including healthcare and life sciences, government, property management and retail. Headquartered in Bethesda, MD, Brivo is a wholly owned subsidiary of The Duchossois Group. For more information, visit http://www.brivo.com.
About Suprema Partnered With ENTERTECH SYSTEMS
ENTERTECH SYSTEMS provides market leading Biometric Access Management and Time & Attendance Systems across North America. The company is the North American operating partner for Suprema and its family of biometrics (finger, face, card & PIN), biometric algorithm, SDK, IP Network and application software products. For more information, visit http://www.EnterTechSystems.com.
Any product names, logos, brands, and other trademarks featured or referred to above are the property of their respective trademark holders.
For further details please contact:
Bruce J. Doneff
Public Relations
Brivo Systems
Phone: (843) 476.3022
Email: bruce.doneff(at)brivo(dot)com
Linda Wu
Director of Marketing
ENTERTECH SYSTEMS
Phone: (905) 582-5110
Email: info(at)EnterTechSystems(dot)com