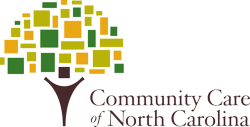 I'm pleased that a North Carolina program was recognized as a model for how to improve outcomes for patients and get more value out of our healthcare system... - U.S. Senator Richard Burr
Winston-Salem, NC (PRWEB) April 03, 2013
The Healthcare Leadership Council, a coalition of chief executives from the nation's leading healthcare companies and organizations, has named Community Care of North Carolina (CCNC) as the recipient of the organization's Wellness Frontiers Award. The award recognizes companies that successfully implement an evidence-based wellness program that prevents disease and improves the well-being of a population.
This marks the second national award for CCNC, a private sector, nonprofit corporation that coordinates care for 1.3 million North Carolinians covered through Medicaid and select commercial plans. Today's award was presented by HLC President Mary Grealy at Wake Forest University Baptist Health Hospital in Winston-Salem.
Also present was U.S. Senator Richard Burr. "North Carolina has long been a leader in patient-centered healthcare," said Senator Burr, "and I'm pleased that a North Carolina program was recognized as a model for how to improve outcomes for patients and get more value out of our healthcare system. 'Medical homes' promote primary care and prevention while reducing overcrowding in emergency rooms and preventable hospital readmissions. Raising the efficiency and quality of healthcare delivery is a win for both patients and taxpayers."
Accepting the award for CCNC was President and CEO L. Allen Dobson, Jr., MD: "I'm gratified to accept this award on behalf of the thousands of CCNC-participating providers and care managers across the state working closely with Medicaid patients to help them take charge of their health status and better manage chronic conditions. Our provider-led, community-based approach to care continues to prove its value in terms of quality improvement and cost containment. CCNC's results come from using data to target our resources where they can do the most good, and from coordinating the efforts of a broad spectrum of health care leaders, including regional networks of physicians, nurses, pharmacists, hospitals, health departments, social service agencies, and other community organizations. We work together as a team with the patient at the center."
Through its 14 regional networks, CCNC provides care management, population management and health data informatics for Medicaid recipients in all 100 North Carolina counties. CCNC also manages care for private sector employees, State Health Plan enrollees and Blue Cross and Blue Shield members in a number of North Carolina counties. A study by Milliman, Inc., a leading actuarial firm, estimated that CCNC saved federal and state taxpayers nearly a billion dollars in the four years from 2007 through 2010.
More information on the Healthcare Leadership Council is available online at http://www.hlc.org. The history and accomplishments of CCNC can be found on the organization's website at http://www.communitycarenc.org.
About CCNC
CCNC is a community-based, public-private partnership that takes a population management approach to improving health care and containing costs for North Carolina's most vulnerable populations. Through its 14 local network partners, CCNC creates "medical homes" for Medicaid beneficiaries, individuals eligible for both Medicare and Medicaid, privately-insured employees and uninsured people in all 100 counties.
About the Healthcare Leadership Council
The Healthcare Leadership Council (HLC), a coalition of chief executives from all disciplines within American healthcare. Through the HLC, the nation's healthcare leaders jointly develop policies and programs to achieve their vision of a 21st century system that makes affordable, high-quality care accessible to all Americans.