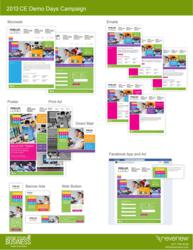 Our partnership with CEA for CE Demo Days provides manufacturers and resellers with a great opportunity to showcase the latest innovations to consumers with syndicated, integrated digital and social marketing tools.
Arlington Heights, Ill. (PRWEB) April 03, 2013
For the fourth year, the Consumer Electronics Association (CEA)® will be supporting electronics retailers across the country as they host the annual CE Demo Days. The in-store events will be held the weekends before and after CE Week (June 21-23 and June 28-30) and will offer consumers the opportunity to experience the latest technologies at their local CEA member store. The CEA is providing all the creative elements for CE Demo Days marketing, available on Revenew, the consumer electronics industry's marketing network, worth $2,500. Several leading manufacturers are sponsoring the nationwide program and are providing funding to support dealer-member advertising as well – these brands are featured on the national consumer website, ceademodays.com. During these two weekends, consumers will have the chance to learn about new innovations from leading manufacturers and to become familiar with the advanced technologies before they bring them home. This year, a national consumer sweepstakes has been introduced into the program to further encourage consumers to attend the local events being held by the CEA-member retailer in their area.
Key Facts:

Resellers hosted 182 in-store events during last year's CE Demo Days.
Highlights from last year's marketing efforts include 47,000 emails read, 3.8 million online impressions and 4.2 million Facebook impressions.
New additions for the 2013 marketing program include prominent manufacturer branding on the national dealer locator microsite, manufacturer co-branding on reseller marketing elements including the dealer's event microsite with hero product images to support reseller sales.
Consumers will have increased capability to share their local event with friends this year as connections to Facebook, Twitter and email have been added to the national dealer locator site.
Social feeds from CEA, manufacturers and the online consumer publication Tell magazine will keep the national site current with the latest technology news.
The reseller integrated marketing campaign for CE Demo Days offers a robust suite of tools and creative elements available on Revenew's marketing network including a customer event microsite, banner ads, Facebook customer and targeted ads, direct mail, print ads, in-store poster, Twitter feeds and three-touch email campaigns.
CE Demo Days offers sponsorship opportunities for manufacturers, content feeds, sweepstakes, a dealer locator and social/sharing platforms.
The CEA will run a national advertising campaign to promote CE Demo Days in the weeks leading up to the event to drive consumer interest. A satellite media tour is currently being planned again this year.
CEA Members can find more information or sign up at joinceademodays.com and click on "Get Involved."
Supporting Quotes:
Kerry Moyer, Senior Director, Consumer Electronics Association
"We have received tremendous positive feedback from manufacturers, distributors and dealers about CE Demo Days. Our members have embraced these events and have taken full advantage of the marketing resources we are offering through Revenew's network. And, by scheduling Demo Days before and after CE Week, this year's innovations will get even more attention from consumers."
Nasrin Thierer, Founder and CEO, Revenew
"Our partnership with CEA for CE Demo Days provides manufacturers and resellers with a great opportunity to showcase the latest innovations to consumers with syndicated, integrated digital and social marketing tools. By taking advantage of all the resources on the Revenew marketing network, they can increase consumer engagement and raise their awareness in the marketplace."
David Young, President, The Sound Room
"CEA's 2012 Demo Days national campaign resulted in the Sound Room getting mentioned over the air by our local NBC affiliate KSDK in St. Louis as the showroom to visit for a demonstration before buying a new TV in preparation for the Summer Games. This kind of exposure in my local market is priceless!"
Supporting resources:
Website: Consumer Electronics Association
Website: Revenew
Website: Join CEA Demo Days
About Revenew
Revenew is the leader in Channel Networking™ and is the only technology platform that enables a network of manufacturers, resellers and industry groups to promote brands and generate demand together through distributed marketing. On Revenew's cloud-based business networking platform, members can build target databases, access marketing content and funds online, customize and co-brand integrated campaigns and track results. It is a unique combination of distributed marketing automation, online fund management, content portal, contact management and business network – enabling all members to grow their businesses faster and easier. For more information visit revenew.com.
About CEA
The Consumer Electronics Association (CEA) is the preeminent trade association promoting growth in the $209 billion U.S. consumer electronics industry. More than 2,000 companies enjoy the benefits of CEA membership, including legislative advocacy, market research, technical training and education, industry promotion, standards development and the fostering of business and strategic relationships. CEA also owns and produces the International CES – The Global Stage for Innovation. All profits from CES are reinvested into CEA's industry services. Find CEA online: CE.org and DeclareInnovation.com. Follow CES at CESweb.org and through both CEA and CES social media channels.