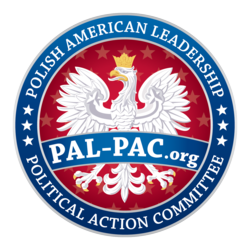 Together, Our Voice Will Be Heard!
Chicago, IL (PRWEB) April 04, 2013
Mr. Arie Zweig and Mr. Lucas Fuksa have announced the launch of the Polish-American Leadership Political Action Committee ("PAL-PAC"), a new organization that is reaching out to unite the Polish-American community.
PAL-PAC is a political organization formed for the purposes of addressing social, civic and business matters relating to the Polish-American community in the United States by educating its constituents, raising awareness of important issues, and identifying and electing leaders to represent its interests.
According to PAL-PAC President Lucas Fuksa, the Polish-American community has a strong voice, and it is the organization's goal to make sure that this voice is heard. By teaching people to respect their heritage, promote their values, and form a cohesive front, PAL-PAC hopes to gain leverage and political influence.
By encouraging its members to become more involved in the political sphere, Mr. Zweig, PAL-PAC's Chairman, hopes that the organization will garner more representation of those who support the Polish-American community's interest in elected positions at all levels of government. The organization also will offer its members guidance and education on social issues affecting the Polish-American community, and will provide direction on how to address these issues through the most effective political channels.
PAL-PAC aims to represent a large number of socially and politically interested citizens. The organization looks to particularly engage younger generations by showing them the direct link between community leadership and the overall quality of life in their neighborhoods. PAL-PAC strives to support the Polish-American community by influencing action and establishing close relationships with local, state and federal politicians.
To learn more about PAL-PAC, get involved and gain access to the benefits the organization offers, visit http://www.pal-pac.org.