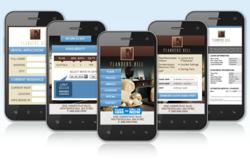 Four out of ten apartment shoppers use mobile devices to shop for their next domicile.
Dallas, Texas (PRWEB) April 03, 2013
A 2012 survey conducted by Apartment Finder revealed that four out of ten apartment shoppers use mobile devices to shop for their next domicile. 2011 surveys indicated eighteen percent of apartment shoppers access the Internet by mobile phone. Essentially, that percentage has doubled in one year.
With the flood of smart phones and iPad/Tablet mobile devices, an apartment website stands to lose forty percent of their hard earned web traffic if it does not have mobile, iPad and/or tablet capability. This fact creates a considerable advantage for competitors to easily gain a substantial edge in attracting and closing prospects simply by acquiring a mobile website in addition to traditional websites. Mobile websites can be purchased as a development item and/or on a monthly rental fee.
ApartmentWebsites.com has taken mobile technology a step further. The company has developed a sophisticated mobile website price presentation program that populates revenue management pricing as generated by such science-driven providers as Yieldstar, LRO, and RentPush. Revenue management applications for the apartment industries are similar to those used in the hotel and transportation industries, only with considerably longer commitment and thus at higher risk. It is therefore very important that a prospective resident or renewing one is well informed to pricing options that best fit their budget and housing agenda. It is estimated that 20% of the apartment market is now using a revenue management application for pricing apartments and renewal leases.
The revenue management pricing presentation provides leasing information for individual units according to the product, lease duration and the move-in date. Since occupancy is constantly fluctuating and demand for apartments is constantly changing, the scientific pricing algorithm is continually changing rental rates and lease expirations. The design intrinsically invites seekers to provide contact information, therefore generating higher lead conversions and greater service to the shopper. Contact information is automatically and securely delivered to the leasing team through optional channels.
Visit this EXAMPLE to see how the pricing presentation works: When a mobile website visitor arrives at the price presentation website, they are automatically invited to view floor plans that are refined to mobile scale. From there they can select price and availability to see how many selections presently exist. The prospect will then see individual unit numbers. When selected, they receive a list of unique leasing features and characteristics. They can change the lease term to examine other pricing options. They can then generate a quote sheet that is sent to the seeker's email address. The mobile website home page also provides a "click to call" feature that calls the apartment communities' business phone so that they can get information on the spot. It also provides an interface where a housing seeker can immediately begin completing an application for residency.
For apartment communities that do not employ revenue management software, ApartmentWebsites.com will publish pricing per floor plan; it can also provide current AVAILABILITY as a preferred option.
About ApartmentWebsites.com div Spherexx.com ®
ApartmentWebsites.com provides web development, mobile websites, and online marketing designed specifically for the apartment industry. Since 2000, ApartmentWebsites has developed hundreds of apartment websites with unique experience and resources. Services include virtual tours, photo galleries, interactive floor planners, interactive online brochures, interactive site plans and availability, resident services and countless other features. ApartmentWebsites is also designed to incorporate advanced leasing, prospect management, and market data analysis tools. Each of the products work together with ApartmentWebsites.com to increase product value, serve residents and assist the leasing team in closing more leads in less time. Pricing packages allow clients to select optional features and set budget priorities.
About Spherexx.com ® Ad Agency | Software Development | Data Centers
Established in 2000, Spherexx.com is recognized as an established leader in the apartment industry website, Internet marketing and software development services. With offices located in Tulsa, Dallas, Austin, and Houston, the company has been distinguished as one of INC5000's fastest growing companies. Spherexx.com is a recipient of the International Summit Creative Award 2012 for creative and communication excellence.
Spherexx.com offers a wide selection of professional services including web design and development, touch-screen kiosks, Internet lead generation tools, online advertising, apartment leasing consulting, advanced mobile technology, apartment lease-up marketing consulting, and search engine performance. The company also provides branding services, video/multimedia production, print media, and copywriting as well as website and email hosting, database solutions, pay per click, e-commerce solutions and custom programming.
Spherexx.com has developed CRM (customer relationship management) products, marketing and lead generation tools that allow clients to better manage and convert leads to leases and sales. These applications are branded under Messagekast.com, ILoveLeasing.com, MarketSurveyTools.com, and RentPush.com. Spherexx.com provides web-based prospecting, marketing, advertising management, and support services.
Spherexx.com has provided services to innovative real estate companies like Lincoln Property Company, Atlantic Pacific Companies, Bozzuto, Denison Development, Trio Properties LLC, Graham Residential, ZRS Management, LLC and Perry Reid Properties. The company represents over one hundred years of direct, executive level property management experience that readily identifies with the challenges and solutions of multi-family property management professionals.