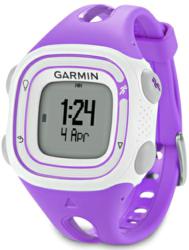 This is a super watch for walk, run or cycling pacing and delivers brilliant maps via Garmin Connect
Bozeman, MT (PRWEB) April 03, 2013
The Garmin Forerunner 10 GPS watch for pacing is now being offered in a violet and white women's color just in time for Spring.
"This is a super watch for walk, run or cycling pacing and delivers brilliant maps via Garmin Connect", says Rusty Squire, President of the Heart Rate Watch Company. He adds, "We love the Garmin 10 and think women will really like this color over the pink or green".
Garmin Forerunner 10 delivers real-time distance and pacing data straight to the face of the watch plus it records map data on the fly for later analysis. "It truly is the ideal pacing watch for someone who does not want the heart rate data or doesn't want to wear a strap because it still holds you accountable on distance and pace", says Squire.
CHEAPER DOES NOT EQUAL BETTER
"We carry the Timex Marathon and know that several bloggers have eluded to how it might be a better value than the Forerunner 10 for $30 less, but we beg to differ", says Squire. He adds, "Garmin maps, which are vastly superior, and the fact that it does cycling data like speed in miles per hour, makes this watch a far better choice in our opinion".
ARE WE HAVING ANY FUN YET?
Black is boring, violet and white is way cooler, as are pink and green, so Garmin finally added a little color to their GPS watch line up when they came out with the Forerunner 10 in 2012.
The watch lasts about 4 hours in GPS mode which is generally enough for most people's daily workouts or moderate hikes but if you need more battery then consider the Garmin Forerunner 210 according to Squire.
The Heart Rate Watch Company has all the latest Garmin Forerunner 10 styles, including the new women's violet and white, in stock now so it's a great time to get geared up for your Spring program.