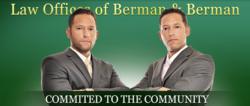 The Berman Law Group are Orlando, Florida, injury lawyers
Orlando, Florida (PRWEB) April 05, 2013
The Berman Law Group is announcing a brand new service, which will provide legal consultation services for clients in need. This allows anyone who has been injured or hurt to get access to the legal care they need. The Berman Law Group are Orlando, Florida, injury lawyers who are dedicated to the community and fight for their clients' justice, which is not always easy, but is a worthwhile endeavor.
As Orlando accident attorneys, the Berman Law Firm is available to assist in personal injury cases, wrongful death, product liability, workers compensation, auto accidents, motorcycle accidents, workplace accidents, family law, criminal law, toxic torts, spinal cord injuries, traumatic brain injuries, burns, amputations, and more.
The Berman Law Group is available for free consultations around the clock 24 hours a day and 7 days a week. To get in touch with them you can call their hotline to speak with a legal case specialist.
The free injury lawyer consultation is available for Orlando and the surrounding areas, including: Union Park, Tangelo Park, Rosemont, Fairvilla, Lake Hart, Southchase, Taft, Riverside Acres, Holden Heights, and all of the other surrounding areas of Orlando, Florida, including Belle Isle, Edgewood, Oviedo, St. Cloud, and Winter Park.
The Orlando injury lawyer service is available to all callers, including those callers who speak English, Spanish, and Portuguese. The purpose of the Orlando injury lawyer hotline is to help all those who have been injured in a traffic accident or workplace injury seek the justice and compensation that they deserve. The Berman Law Group is also experienced in fighting medical cases for victims who have been allegedly harmed by dangerous pharmaceutical products, including: Yaz/Yasmin/Ocella, Mirena, Pradaxa, Granuflo, Byetta/Januvia/Victoza, NuvaRing, Propecia, Paxil, Zoloft, Zocor, Crestor, Avandia, Accutane, and many more. Call 1-877-529-8995 for more details.
To learn more about the Berman Law Group and how they can help you fight for justice, you can visit their website: http://personalinjurylawyersorlandofl.com/ or call their local Orlando lawyer hotline at (407) 219-9836 or you can call their toll free line at 1-877-529-8995. The Berman Law Group has offices in Boca Raton and Stuart, Florida, but is able to help clients all over the state of Florida.