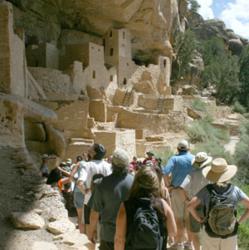 Cortez, CO (PRWEB) April 04, 2013
One of the most fascinating—and timely—stories of human history takes place in a spectacularly scenic area of our country: the American Southwest. The Pueblo Indian culture took root there more than 2,000 years ago and continues to thrive today. How this culture adapted to, and flourished in, this rugged land of red-rock canyons and sweeping sage plains can teach us all lessons about better managing our natural resources today.
This year, the Crow Canyon Archaeological Center is featuring three new tours that explore Pueblo Indian culture in the Southwest. All trips are led by distinguished archaeologists and American Indian scholars who are passionate about sharing their knowledge.
The Southern Tewa Experience
During this tour, travelers will explore archaeological sites and the oral histories that link ancient and contemporary Pueblo people of New Mexico. Scholars are Dr. Scott Ortman, Southwestern archaeologist; Dr. Tessie Naranjo, founder and former faculty member of the Pueblo Indian Studies Program at Northern New Mexico College; and Porter Swentzell, Santa Clara Pueblo member and adjunct faculty member of the Pueblo Indian Studies Program.
The program runs May 19–25, 2013.
Pueblo Peoples of the Rio Grande
Travelers will trace the history of the Pueblo people of north-central New Mexico during this trip. With a focus on ancestral villages occupied during the Pueblo Revolt of 1680, scholars will lead visits to ancient and historic archaeological sites, and everyone will attend a tribal feast day. Scholars are Dr. Joseph Suina, former governor of Cochiti Pueblo and professor emeritus at the University of New Mexico; Dr. Robert Preucel, professor of anthropology at Brown University; and Woody Aguilar from San Ildefonso Pueblo, a doctoral candidate at the University of Pennsylvania.
The program runs July 30–August 5, 2013.
Archaeology and Pueblo Culture of the Southwest
Traveling through the Four Corners area, participants in this tour will visit the nation's premier archaeological preserve, Mesa Verde National Park, as well as the less well known but no less striking archaeological treasures of Aztec Ruins and Canyon de Chelly. On the Hopi mesas, travelers will walk through centuries-old villages that are still thriving today. Scholars are Dr. William (Bill) Lipe, Southwestern archaeologist and professor emeritus at Washington State University and Chris Toya, Jemez Pueblo tribal member and archaeologist who serves as the traditional cultural properties manager for the Pueblo.
The programs runs September 1–8, 2013.
To sign up for a trip or to get more information, call 1-800-422-8975, ext. 136 or 160; e-mail travel(at)crowcanyon(dot)org; or visit crowcanyon.org/travel.
About the Crow Canyon Archaeological Center
The not-for-profit Crow Canyon Archaeological Center, located near Cortez, Colo., is celebrating its thirtieth anniversary conducting long-term, multidisciplinary research into the ancestral Pueblo Indians of the southwestern United States and providing experiential education programs for adults, teens, and children. The Center also collaborates with American Indians on a wide variety of initiatives of mutual interest, including research projects, education curricula, and language- and cultural-preservation programs.
####