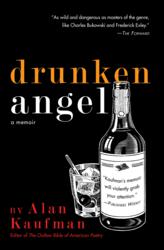 "[An] addictive memoir of self-destruction, recuperation and a literary coming-of-age."

—Kirkus Reviews
(PRWEB) April 03, 2013
Son of a French Holocaust survivor, Kaufman drank to fill the huge hole in his heart, wrecking himself and everyone in his path. His memoir Drunken Angel recounts with raw power and naked candor his descent into the hell of alcoholism while struggling to cope with his traumatic past. Alan Kaufman will share his story at the Jewish Community Center in Palo Alto on April 15th (see below for details). For those who cannot attend this special event in person, Kaufman will also be sharing his message on April 6 on KGO AM 810, from 8:05-8:30pm.
Alan Kaufman Bay Area Events:
April 15 7:30pm In Conversation at the Albert L Schultz Jewish Community Center, Palo Alto
April 11 7:30pm Books Inc., Opera Plaza, San Francisco
April 17 5:30-7:30pm "Spring into Recovery" at the Henry Ohlhoff Recovery Center, 201 Mission Street, SF
In his memoir, Drunken Angel, Alan Kaufman recounts his experiences as the son of a French-Jewish Holocaust survivor, probing the consciousness of an addict to expose the true horror of alcoholism. In no other book do addiction, PTSD and The Holocaust cross paths and combine to produce profound new questions, vistas, and insights into the seemingly intractable malaise that haunts contemporary life. This ultimately uplifting narrative of loss, addiction and redemption is one of the first memoirs by a Second Generation Holocaust writer to address how alcoholism, his Jewish lineage and the Holocaust intersect, raising haunting new questions about how deeply both the Holocaust and addiction lie at the very nexus of our contemporary world.
A literary star and award-winning author, Kaufman is the editor of such critically acclaimed books as Jew Boy (now being made into a motion picture), The Outlaw Bible of American Poetry, Matches, The Outlaw Bible of American Literature, publisher of the short-lived but zeitgeist-changing iconoclastic Jewish underground mag Davka: Jewish Cultural Revolution, and founder and acting dean of The Free University of San Francisco. His books and activism have earned the praise of everyone from David Mamet and Dave Eggars to The New York Times, The San Francisco Chronicle, Publisher's Weekly and The Los Angeles Times. His literary works are considered classics of their kind.