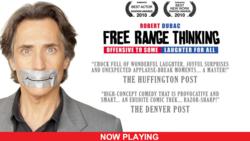 Lightening fast and funny
West Palm Beach, FL (PRWEB) April 02, 2013
Robert Dubac is bringing his award winning hilarious show "Free Range Thinking" to The Kravis Center for the Performing Arts this week April 4 - 7.
To celebrate being a former smart kid who thought too much and got picked on for it, Dubac is offering other free thinkers ages 13 - 19 tickets at no charge to any performance. Simply go to Robert's Facebook Page Event and tell him 1. Name and 2. which show. He will write back with all the info needed to pick up tickets at the box office.
In the show, Robert Dubac is a straight talker who speaks in circles. He is an actor, a linguist, a magician and a comedian, yet he is not fully any of these things — and that's the beauty of it. He is not easy to define and, therefore, his ideas are not easy to dismiss. He catches you off balance, and before you either fall or catch yourself, you are able to open up and truly hear.
When the lights come up on this one act performance, we find a fit, well-dressed man reading a newspaper while standing in a box before a chalkboard bearing a single question mark. It is a fitting opening to a show where subtle visual metaphor combines with verbal slight of hand and the deliberately fanciful use of illusion to reveal the truth that lies beneath the busy unconscious lives we live.
This show is Dubac's most recent one man comedy-routine-cum-lecture magic show. In this thought provoking solo performance Dubac, is following in the footsteps of other social satirists, like George Carlin, in speaking the truth through his art. Where George Carlin is acerbic and vitriolic, however, this guy is a delicate, linguistic surgeon.
As Dubac insists, there is a fine line between the truth we can laugh at and the truth that offends. The trouble is that line shifts in the sands of our individual consciousness.
The fault line is not in the truth but in the hearer. Dubac asks us to step back from our own reactions and examine their origins. He urges us to wipe the slate clean of the information we've soaked up in a lifetime of media consumption and Pavlovian training and to look at the world around us with open eyes, engaging our critical thinking.
Throughout the piece, there is a heartbeat sound-cue that recurs, which he identifies with the truth; I have to say that I think he has his finger on the pulse of it. Dubac is thinking outside the box, and his engaging show has just the right touch to encourage the audience to take a step outside too.
If you want to unplug your teenagers from the internet for a night, do take this offer for no charge tickets for all teens ages 13 - 19.