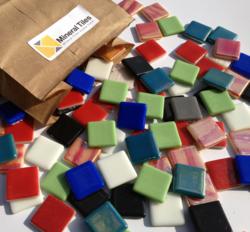 Instead of disposing of these glass tiles, the company saw an eco-friendly opportunity for their customers and online visitors to create art and crafts projects such s cup holders, trays, flower vases, mosaics and more with the use of glass
Miami, FL (PRWEB) April 04, 2013
In an effort to promote creativity in interior design with an environmentally friendly touch, Mineral Tiles, a leading supplier of tile products and provider of tile design services on the Internet, is holding a unique promotion on its website, involving recycled glass tiles. The company is giving 50, 2-pound bags of recycled glass tiles for free, mixed color, to the first 50 people who visit their website to claim them. The bags are completely free and are on a 'first come first served' basis, with Mineral Tiles even shouldering shipping costs.
Mineral Tiles' goal behind the promotion is to encourage the use of an uncommon material like recycled glass tiles in the arts and crafts industry. Instead of disposing of these glass tiles, the company saw an eco-friendly opportunity for their customers and online visitors to create art and crafts projects such as cup holders, trays, flower vases, mosaics and more with the use of glass. Given the ability of glass tiles to be easily glued to a variety of surfaces like wood, ceramic, plastic and acrylic using readily available construction glue like silicone and liquid nail, the material can be incorporated into different home and decorative pieces.
Mineral Tiles has had other initiatives with an environmentally friendly slant to them. The company recognizes the growing importance of leading eco-friendly lifestyles, and as such, offers its own unique range of eco-friendly glass tiles. Mineral tiles offers a range of glass tiles made from broken car windshields and beverage bottles, processed and transformed into beautiful glass tiles for a variety of applications, including the bathroom, pool, and kitchen backsplashes.
The company points out that while most products and initiatives that appeal to the environment-conscious market can seem like marketing ploys, Mineral Tiles have made a conscientious effort to create a collection of recycled glass tiles that is actually stylish and colorful. The same careful approach to quality is present in the company's glass tile bags up for donation, allowing consumers to create art and crafts projects that actually complement the interior design of any space they are placed in.
About Mineral Tiles
Established in 2006, Mineral Tiles stands out as a company deviating from the standard business model of displaying and selling tile products in a physical showroom, manned by a full staff. The company operates exclusively through its website, allowing shoppers from all corners of the country to browse through and purchase tile products on the Internet with the simple click on the screen.
By doing without the standard showroom and store, Mineral Tiles is able to offer lower prices for their high-quality tile products, with the savings on rent, employees' salaries and utilities used to offset product prices. Despite lower than usual prices, Mineral Tiles assures their customers that they do not in any way compromise on the quality of their products.
To compensate for the lack of a physical store, Mineral Tiles also offers 24-hour e-mail support, ensuring that their customers can always speak with a company representative when required.