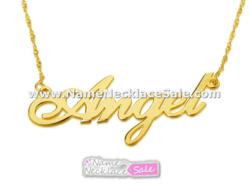 NameNecklaceSale.com celebrating its new Facebook Page with a spesial 40% Discount Coupon.
NY, New York (PRWEB) April 04, 2013
Leading provider of top quality personalized necklaces and name pendants, NameNecklaceSale.com, announces a weekly giveaway of 100 free necklaces and a 40% discount coupon to celebrate the launch of its new Facebook page.
Name Necklace Sale offers personalized jewelry online in discount prices and a wide range of designs and customization options. Customers enjoy free global shipping or a quick delivery with additional costs. Chain options include different chain lengths that suit different age groups and different chain styles (twisted chain, light box chain, box chain, Figaro, rolo, and more). Other customization options include pendent thickness (regular or double strength) and font styles, from the classic cursive Carrie name necklace, to block letters and vertical pendants.
Name Necklace Sale provides a selection of 14 karat gold name necklaces, sterling silver name necklaces, white gold necklaces and gold plated necklaces that can include one name, two names or initials, which can also be underlined or accentuated with a decorative motif. For example, to create a romantic gift, customers can opt for a design that includes a heart shape or a little cupid. Additional ornaments to the name pendent include personality symbols such as a butterfly, a dolphin, or a star, sports ornaments such as a football, a basketball or a soccer ball. Customers who wish to mark their faith can select special cross pendants with the name inscribed on them, or a name necklace that includes a small cross. Another way to mark your faith or heritage is an angel ornament or a clover pendent. Mothers, or customers shopping for a Mother's Day gift can opt for heart shame pendants or Kids pendants where you can inscribe the initials on the each pendant.
The different finishing styles include brushed gold, smooth finish, sparkling diamond-cut sterling silver, and Swarovski Name Necklaces. For gold plated pendants, customers can choose between 14k plating, 18k plating or 24k plating. The chains and pendants are made of pure metal according to highest standards of the jewelry industry, and produced using a special process that ensures that the longevity of the name necklace by making it more durable and tarnish resistant.
To celebrate the launch of its new Facebook page, NameNecklaceSale.com is announcing a weekly draw of 100 free name necklaces, which will be distributed among facebook users who Like the page. In addition to participation in the draw, every user who likes the page automatically receives a 40% discount coupon for NameNecklaceSale.com. This promotion will run from April 1st until April 30st and its limited to only 999 necklaces. The 40% discount coupon can be claimed at NameNecklaceSale.com.
Website : NameNecklaceSale
Facebook Promotion Page : NameNecklaceSale Promotion