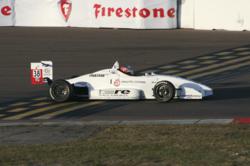 "This weekend could not have gone any better", said Hargrove. "The support of the guys at Cape Motorsports is second to non, providing me with a car that allows me to do my job to the best of my ability."
Vancouver, BC (PRWEB) April 04, 2013
Vancouver native, 18 year old Scott Hargrove, driver of #38 Cape Motorsports with Wayne Taylor Racing/Analytic Systems/Race Energy entry, continued his winning ways in Rounds 3 and 4 of the 2013 Cooper Tires USF2000 Championship Powered by Mazda this weekend in St. Petersburg, Florida, part of the Honda Indycar Grand Prix of St. Petersburg, joining IZOD Indycar Driver James Hinchcliffe as a Canadian winner at the event.
Hargrove put in two stellar laps right at the end of a qualifying session that started on a damp and drying track Saturday morning to win the pole for the race later that day, as well as the provisional pole for Sunday's race. Hargrove brought the field to the green flag to start race 1 and successfully avoided the chaos that erupted in turn 1 just behind him, resulting in 3 laps under caution while the track was cleared. When the green flag waved again, Hargrove drove away from the field increasing his lead lap by lap to win the 21 lap race by over 3 seconds, locking down pole position for Sunday's Peninsula Pipeline USF2000 GP.
Sunday dawned overcast and misty with a threat of rain, that fortunately held off as the race cars rolled onto the front straight to form up for Race 2. Hargrove took off at the start leaving the field behind and led the entire caution free 21 lap race, winning the extra points for fastest lap and leading the most laps with an even greater winning margin of over 4.5 seconds.
Hargrove increased his championship points to 122 after four out of the fourteen races, leading second place by 43 points (there is a maximum of 33 points awarded per race).
"This weekend could not have gone any better," said Hargrove. "The support of the guys at Cape Motorsport is second to none, providing me with a car that allows me to do my job to the best of my ability. Everything just seemed to fall into place, coming away with back to back wins in downtown St Pete is something I will never forget! Now we switch gears a bit and focus on my first oval race, I'm really looking forward to it!"
Next up for Hargrove is The Night Before the 500 on Saturday May 25th at Lucas Oil Raceway in Indianapolis, Indiana. This will be Hargrove's first race on an oval track.
For more information about Scott, visit his website at http://www.scotthargrove.com keep up to date via Twitter @Scott_Hargrove and his Facebook page @ ScottHargroveMotorsports
Analytic Systems is a world class manufacturer of high performance Power Conversion Equipment for the Military, Marine, Industrial and Alternative Energy markets. Visit http://www.analyticsystems.com for more information.
RaceEnergy is a division of Analytic Systems that specializes in Battery Chargers and other electronics for the motorsports industry. Visit http://www.raceenergy.net for more information.
Metal Action Machining is a world class CNC machine shop specializing in 3D and multi axis precision machining for Industrial, Aerospace and Military applications. For more information please visit http://www.metalaction.ca
Cape Motorsports with Wayne Taylor Racing was formed in 2010 as a partnership between two successful race entities. With leadership from brothers Nicholas and Dominic Cape and along with Wayne Taylor and his organization in Indianapolis, the team won the 2012 Cooper Tires Presents the USF2000 National Championship Powered by Mazda. Visit http://www.capemotorsports.com for more information.
For additional information, or pictures please contact Michelle Corrigall at michelle(at)scotthargrove(dot)com or 778-724-4659