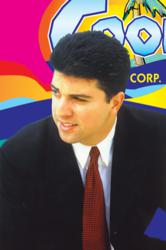 Jamaica has the potential to earn as much money from track and field as it does from agriculture.
Kingston, Jamaica (PRWEB) April 17, 2013
Business savvy CEO of Cool Corporation, Joey Issa, said that Jamaica has the potential to earn as much money from track and field as it does from agriculture after the Boys and Girls Champs event held in Kingston early this month.
Stating that some 30 records were broken at the just concluded annual Boys and Girls Champs, the breeding ground for Jamaican track and field athletes, Issa says, "This is testimony to the country's ability to sustain its athletic prowess and rake in huge financial rewards from the sport."
Joey Issa's statement was in response to concerns about the capability of track and field to bring high returns to Jamaica, now that it's nearing the top of its game in the sport.
Says Issa: "I am aware that questions are emerging about our ability to keep on producing top athletes and earn more and more from them, but in my view, you only have to look at the many records that were broken at the last Champs to realise that we do have a bright future in track and field," stating that "it can seriously impact Jamaica's wealth and make a significant contribution to gross domestic product (GDP), create jobs and alleviate poverty."
However, the business guru and philanthropist says a more definitive answer will emerge in another space and time – after Rio 2016 – when Usain Bolt could triple his earning to US$60M a year and others, US$3M each, assuming a ratio of 20:1.
Based on Issa's views, Bolt's earnings, along with those of just 25 of Jamaica's top athletes could generate US$135M a year, representing 0.56% of the country's projected GDP of US$24.2B based on annual growth of 1%.
"Moreover," Issa argues, "when merchandising and franchising is added, they could triple total income from track and field to 1.7% of GDP, which is about 3% less than the contribution of Agriculture to the economy.
"Can we do it? I certainly think so," Issa says, warning however, that "we need to build on our success by widening and deepening our participation in track and field, providing the necessary training programs and facilities for our up and coming athletes and supporting them financially as they journey to stardom, even when they are not performing well."
Joey Issa also commented on the superlatives hurled at Jamaican athletes last year by persons of influence, in an attempt to discredit the country's record-breaking performance at the Olympics.
Calling the criticisms "unfortunate," he says "they should serve only to strengthen our resolve to achieve more at all odds," noting that "national heroes, Bustamante and Manley, did so for Independence; Bob Marley and others, for defining and popularizing Jamaican culture and heritage worldwide; and now, Usain Bolt and company, for our sporting prowess."
Joey Issa, while accepting that Jamaica is a small island nation and lacks resources, with 14% of its greatest resource - its workforce - unemployed, he points out that over the years many Jamaicans have achieve world firsts and some immortalized, even globally.
"So yes; like all societies we are not perfect but we have a long history of being a proud people with a passion and determination to succeed against all odds; it's in our DNA – Likkle but tallawah – and comes with bragging rights.
"And while we are third world, our athletes, coaches, Anti-Doping Commission and other sports organizations are not. I believe they employ best practices that are even ahead of first world standards; that's why we are where we are in the sporting arena and that's why we are going to make a 'killing' from track and field in particular," Joey Issa assures.
About Cool Corp
Cool Corp (http://www.coolcorp.com) is one of the most respected brands in Jamaica. With interests ranging from petroleum, telecommunications and financial services to manufacturing, retailing and entertainment, Cool Corp operates in different sectors and markets providing them with a consistent brand attitude and feel.
About Joey Issa
Joseph J. Issa (http://www.joeyissa.com), the founder of the Cool Group of Companies, has devoted his life to improving the Jamaican economy and ensuring the continued economic growth of his company. He began his career in the hotel industry by working for his family's resort, Super Clubs Grand Lido Negril and now runs of the most successful brands in the Caribbean.
This article is published c/o JoeyIssa.com under the Creative Commons with full re-publishing rights at http://www.joeyissa.com/2013/04/joey-issa-on-economics-of-sports-in-jamaica/