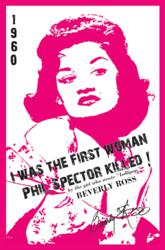 "The HBO Movie got it all wrong," says Beverly, "Pacino is a great actor, but he never came close to capturing the truth of Phil's despicable character."
Cleveland, OH (PRWEB) April 02, 2013
Brill Building songwriter, Beverly Ross, famous for penning The Chordettes' "Lollipop," Elvis Presley's "The Girl of My Best Friend" and "Dim, Dim the Lights" for Bill Haley and His Comets released her tell all book titled I Was the First Woman Phil Spector Killed to rave reviews.
In her Gonzo journalistic style, she elucidates how as a teenager she survived the raging, competitive atmosphere of NYC's Tin Pan Alley Streets in 1958-61 developing rock scene.
Ross recounts tales of betrayal at the hands of former collaborator, Phil Spector who once crashed at her house in lieu of sleeping on the Leiber and Stoller office floor.
"The HBO Movie got it all wrong," says Beverly, "Pacino is a great actor, but he never came close to capturing the truth of Phil's despicable character."
Ross is scheduled for an interview and book signing at The Rock and Roll Hall of Fame in Cleveland on April 20th.
— END —
Notes to Editors:
About Beverly Ross Called "a premier architect of rock 'n' roll" by her peers, Beverly Ross, composer of classic tunes such as: Roy Orbison's "Candy Man" and The Earls' "Remember Then" among others was at one time the highest paid female writer at the Brill Building, one of NYC's bustling song factories. Her "Dim, Dim the Lights" was called by Alan Freed the "granddaddy song of Rock 'n' Roll."