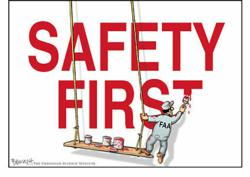 Chicago, IL (PRWEB) April 03, 2013
Spectrum Training Services, Inc. will host their Annual Workplace Safety Fair on Tuesday, June 18, 2013 from 10 a.m. to 5 p.m. at the Renaissance Chicago North Shore Hotel in Northbrook. This is a "must attend" event for safety and health professionals, designed to build awareness of the safety product and educational resources available to the organization to maintain a saver working environment.
The theme of this year's event is "Safety Starts With Me." The event will feature numerous vendors of workplace safety education and items ranging from head, eye and face protection and respiratory protection to ergonomic products and first aid kits. "The Workplace Safety Fair is designed for all levels of staff, from employees to supervisors, human resource managers and risk management staff," said Tami Gilbert, RN, MSN, MBA. Gilbert added that she encourages individuals with experience ranging from entry level to seasoned safety professionals as well as facility maintenance and operation staff, workplace managers, and risk management personnel in a wide variety of businesses including hotels, hospitals, physician's clinics, constructions, and colleges to attend.
Gilbert noted that there are numerous opportunities for vendors offering products and services in general safety products, personal protective equipment, hazard controls and fall protection to participate. "Also, invited are vendors specializing in facility maintenance and operation, environmental protection, ergonomics and risk management to showcase their latest safety solutions," Gilbert said.
According to Gilbert, who expects a record turnout for the event, attendees will have direct access to educational resources and workplace safety products that have been proven to have a significant positive impact on the safety of work environments. Gilbert encourages both vendors and attendees to take advantage of the early registration discounts that are being offered. "This year, the early registration discounts include a $200 for Vendors and 2 for 1 registration for the attendees, along with the chance to win a 10-hour or 30-hour OSHA Training package for their staff. This is a significant savings opportunity for businesses," Gilbert added.
The mission of Spectrum Training Services is to provide effective and affordable OSHA approved training to businesses, enabling them to implement workplace safety programs that will minimize the risk of job site injuries, accidents, and deaths.
According to Gilbert, implementing a strong workplace safety plan has been statistically proven to result in fewer injuries, higher productivity, lower insurances premiums and lower risk of lawsuits.
"On average, 15 workers die every day from job injuries and more than 4,900 Americans die from workplace injuries in 2011," according to OSHA. Adding "additionally, more than 4 million non-fatal workplace injuries and illnesses are reported." Gilbert emphasizes that both employers and workers must have the knowledge and ability to recognize, avoid and prevent safety and health hazards in their workplaces.
For more information and to register for the Annual Workplace Safety Fair as a vendor or attendee email info(at)illinoisoshatraining(dot)com or call 877-366-0611