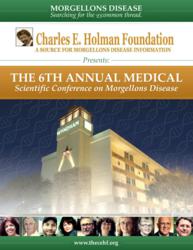 In 2008 we began this conference for scientists to present & discuss their research; also, for patients to network with others who have MD & meet the researchers who are committed to finding answers, said Cindy Casey-Holman, RN, CEHF Exec Dir
Austin, TX (PRWEB) April 03, 2013
On April 13 and 14, The Charles E. Holman Foundation (CEHF) will host the 6th Annual Medical - Scientific Conference on Morgellons Disease. The event titled "Searching for the Uncommon Thread" brings together researchers, medical professionals and patients to exchange information, ideas, scientific data and to develop networks for medical management and continued learning. A major goal is to provide physicians and other medical practitioners with insight into recent developments in the understanding of Morgellons Disease. Attendees have registered from around the world including the US, Canada, Europe and as far away as Australia.
Morgellons Disease (MD) is a debilitating multi-system illness characterized by the formation of unusual fibers within the skin affecting people of all ages and ethnic groups worldwide. In addition to slow healing skin lesions, those afflicted by the illness also experience overwhelming fatigue and an array of neurological deficits. Recently, new research revealed the presence of spirocheteal bacteria in tissue of MD patients providing evidence consistent with an infectious process. These findings and more will be discussed during the Austin event.
The 2013 speaker line-up will feature many returning favorites as well as several new prominent personalities from a variety of medical specialties. Highlights of the two-day event include Robert Allan, PhD, Parasitologist from Canada, who will speak on parasites commonly associated with humans and include a live microscopic review of typically submitted MD specimens. Dr. Peter Mayne, GP Dermatologist from Australia, will give an overview of clinical findings associated with MD including a hand held lighted microscope examination demonstration. Eva Sapi, PhD from University of New Haven (CT), recently credited with being the first to demonstrate that Lyme spirochetes create their own complex biofilm, will discuss her involvement with MD research. Each of the speakers volunteer their time, travel and expertise to make this annual event a success. The conference will be held on Saturday & Sunday, April 13 -14, at the Wyndham Garden Hotel, 3401 N Interstate 35 Frontage Rd, in Austin, TX. An "Around the World" hors d'Oeuvres reception is scheduled for Saturday evening. While the event is geared towards the medical community, patients and everyone interested in learning more about MD are encouraged to attend. Registration which includes admission to both days, the Saturday evening reception, a program book and T-shirt is $150.00 per person. Full conference details and online registration is available at http://www.thecehf.org. The CEHF is the primary funding source for MD research and event proceeds will be used to further this mission.
The Charles E. Holman Foundation, based in Austin, TX, is a 501(c) (3) nonprofit organization committed to advocacy and philanthropy in the battle against MD. The foundation was named for Charles E. Holman, a pioneer in the fight against Morgellons Disease and is led by Executive Director Cindy Casey-Holman, RN.