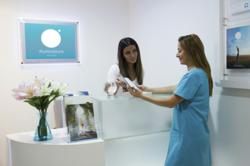 Dubai, Abu Dhabi, Sharjah, San Francisco, Pune (PRWEB) April 14, 2013
Illuminations, a well being center located in Jumeirah Lake Towers, is working on a mobile app for Apple and Android devices. The popular center hopes these new applications help them reach a wider audience and help more individuals in their day-to-day lives.
The app is a part of their intricate technology strategy to fully link their services with the general population and to help their clients stay connected to the center even when they are at home or on the go.
The company was founded by Soniyaa Kiran Punjabi and continues to expand its services from its Dubai location. The center offers daily meditations, holistic training programs, private consultations, holistic products, and more. Their new and improved website is set to launch soon and will offer clients access to all information and tips from the organization, as well as the ability to make booking and purchases through the site. This will combine with their social media outreach across platforms like Facebook, Twitter, Tumblr, and Meetup.
The new app will be compatible with all Apple and Android devices, and will give clients access to information on daily, weekly and monthly events, pricing, booking, as well as tips and quotes to assist with motivating them as their work progresses with Illuminations.
Illuminations is a Dubai-based holistic well being center located in Jumeirah Lake Towers. The center was founded by Soniyaa Kiran Punjabi who aims to inspire and enable people to break free from fear, stress and limitations through the center's many clinics. They offer a diverse and integrated series of daily sessions, workshops and training courses to support individuals and companies.