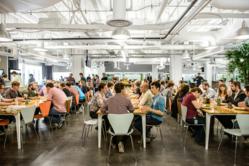 "Feeding souls at companies all across the county"
Detroit, MI (PRWEB) April 03, 2013
When it comes to free food in the office, more companies are trying to keep up with the Joneses or with the Zuckerbergs. Never before has catering lunch for the team been so easy since Soul & Co.
Amazing catered meals for employees, long a cherished perk at web companies, now are spreading to more traditional businesses, including law firms, manufacturing shops and architectural firms, according to some food service companies.
"Its called the 'Google Effect,' " says Greg Casella, owner of catering company Catered Too! in San Jose.
Google Inc.'s free food and drinks, including such offerings as sushi and fresh-ground espresso, helped spark the fashion of deluxe cafeterias or catered meals at Internet companies like Mark Zuckerberg's Facebook Inc. Some non-tech companies say they now need to do the same to attract employees who are used to hearing about these perks from their friends in tech jobs.
Detroit's Soul & Company brings lunch weekly to companies all over the country to employees in a workspace from all industries. Unlike most companies in the food service industries, Soul & Company will deliver food to any company at any location, and in any city. The food comes from a rotation of local restaurants, food trucks, private chefs, and pop up kitchens.
Soul & Company Chief Executive D'Andre Ealy says his company is helping to make companies more productive as well as increasing business for local vendors of all sizes. He believes that allowing companies to set a budget that is comfortable for them and receive amazing food is the start of a growing industry. Local food vendors are sometimes overlooked, but Soul & Company is making the process open.
The service is so simple and allows any company of any size to use the service.
They believe in variety- They are not like other food ordering sites. There're about quality, not quantity. They hunt for the very best vendors, whether it is a food truck, a restaurant, a farmers' market purveyors or a caterer. They get to know everything about the chefs they work with so they can ensure clients get the best food possible, customized to one's preferences, and the service will be top notch.
Because they believe lunch should be amazing and different every day. And on time. Soul & Company lives and breathes the details of the meals- A team has 15 vegetarians? No problem. The CEO is a vegan who doesn't eat gluten? They got it covered. Everyone on the team is allergic to nuts? They will take care of it. Tell them any needs and preferences upfront and their team will construct a schedule of amazingly varied meals from across their vendor network, customized for employees liking.
They handle all of the logistics, communication, customer service and billing so there is no worry. Sit back and relax, lunch is on the way. If the meal isn't perfect, they're not happy- Tell them what the team likes and don't like about each meal. They take every comment seriously and respond to all feedback. Email, call, or submit feedback through SoulandCompany.com