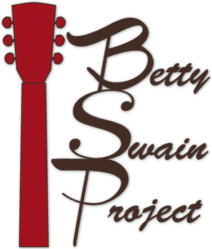 The level of talent that has come together is pretty inspiring.
NASHVILLE, Tennessee (PRWEB) April 03, 2013
In 2011, a simple 85 year-old widow, Betty Swain, rummaged through her cedar chest and found a folder of lyrics she had written more than five decades before. Throughout her life, she performed cover songs for fun whenever the opportunity would arise, but she had always wanted to find someone to write the music to her own lyrics. In 2011, shortly before she passed away, her dream came true. And in 2013, the rest of the world will finally have the chance to hear Betty's songs.
After discovering the lyrics, Betty sent the folder to her niece, and it eventually found its way to singer-songwriter Jim Paul in Raleigh, North Carolina. He wrote the music to the lost lyrics and formed a band called The Betty Swain Project. They recorded demos for Betty and performed a small concert for her with family and friends in attendance. After a lifetime of yearning, Betty sat in awe, elated by the opportunity to finally hear her songs performed. Just a few weeks later, Betty Swain passed away.
Inspired by the lyrics and the remarkable woman who penned them, The Betty Swain Project teamed up with Raleigh-based music company Center Sound Records. With band member and producer Timothy Daher, Emmy®-nominated producer Craig Brandwynne and GRAMMY®-winning musician and producer Robin Ruddy at the helm, the team has brought together a diverse list of vocalists to record the album at Parlor Studios on Nashville's Music Row. Vocalists scheduled to appear on the project include chart-topping GRAMMY® Award winner Lynn Anderson, Highway 101's Nikki Nelson, "American Idol" finalist Siobhan Magnus, Kim Parent, Loni Rose, Marissa Begin, Taylor Watson, Brittini Black and Devin Belle.
"The level of talent that has come together is pretty inspiring," says Craig Brandwynne, the album's co-producer and Vice President of Center Sound Records. "I'm glad that Betty had the chance to hear these songs, which was her lifelong dream. But she would never have believed that all of these people would come together now to give her songs life."
The producers have assembled a who's who list of Nashville session players for the project, including Jimmy Nichols (Carrie Underwood, Faith Hill) on keys, Dave Pomeroy (Trisha Yearwood, Emmylou Harris) on bass, drummer Rick Lonow (Loretta Lynn, Larry Gatlin), Daniel Parks (Blake Shelton, Jason Crabb) on guitar and Robin Ruddy (Rod Stewart, Ray Stevens, Shania Twain) on banjo, mandolin, acoustic guitar, pedal steel and dobro.
With the upcoming release of The Betty Swain Project, Betty's dream will finally come true in a much grander way than she could have imagined during her lifetime. "You kids have given me something you will never understand and I will never be able to put into words," she said after hearing the songs for the first time. "Thank you so much. You have put the period at the end of my life."
The album is currently being recorded in Nashville, Tennessee. Center Sound Records plans to release the album later this year. For more information, visit http://www.bettyswainproject.com and http://www.centersoundrecords.com.
# # #