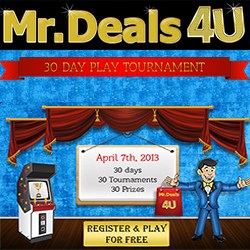 How Good Is Your Game?!
Boca Raton, FL (PRWEB) April 03, 2013
MrDeals4U.com will start its 30 Day Play program on April 7th of 2013. The program, which runs for 30 days, is free to register for and participate in.  Each day participants will have a chance to play for the highest score and to win one of the 30 daily deal prizes. More information on the tournament can be accessed by clicking here: https://www.mrdeals4u.com/page/30-Day-Play-Tournament
"We are running this promotion to help people become familiar with the website. Each tournament lasts 7 days, allowing people to earn high-scores on the games- which will improve his or her shot at winning one of the prizes," said Phil Tomich, Founder. "The goal is to engage our consumers with a giveaway and online games!"
Leslie, owner of Purses in Couture states, "We are thrilled to work with Mr. Deals 4U and believe they have a unique platform that no other Daily Deal site offers." Purses In Couture will be offering three of their leather handbags as prizes. The handbags retail for over $200.
Tournaments and Prizes will be announced at the start of each day. Information on the tournaments will be updated daily via the website's Facebook page. People with the highest scores will win the prizes. "Our Daily Deals website is different because we always offer complimentary online gaming for discounts. People can come, play and even browse for some fantastic deals," continued Tomich.
MrDeals4U.com is inviting members of the media to visit the website to learn more. The Daily Deals website is challenging the industry by offering a unique and pro-merchant platform. The website provides merchants with no-pay advertising, SEO metrics and social media links to help turn one-time customers into repeat business. More information can be accessed at http://www.mrdeals4u.com or watch our video..
Let the games begin!
About Mr. Deals 4 U:
Mr. Deals 4U is an exciting new way to find great deals, play online video games and earn DEAL DOLLARS to buy daily deals and enter tournaments.
Our mission is to give merchants an opportunity to create brand awareness of their business and products. Mr. Deals offers a fun atmosphere by allowing customers to play games and earn Deal Dollars to use on Mr.Deals4U.com.
Mr. Deals allows merchants a place to offer great deals to online gamers. Every day there are 6 deals offered by a variety of merchants with an assortment of deals. Join our Online Video Game Room to earn Deal Dollars that will let you enter into tournaments to win prizes.