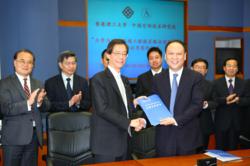 (PRWEB) April 05, 2013
The Hong Kong Polytechnic University (PolyU) has signed two important agreements with China Academy of Space Technology (CAST) in less than one year's time. Pursuant to the signing of agreement in April 2012, which brought together top-notch experts from both sides to develop space tool for collecting lunar rock sample in the third phase of China's lunar exploration programme, PolyU and CAST have signed another agreement to establish the "Joint Laboratory in Mechanics and Space Environment Engineering."
Mr Yang Baohua, President of CAST has led a senior delegation to visit Hong Kong to seal the deal with PolyU President Professor Timothy W. Tong on 27 March Wednesday. Joining the delegation were Mr Li Hu, who heads the R&D section of CAST; and Mr Liu Guoqing and Mr Feng Yaoqi from Beijing Institute of Spacecraft Environment Engineering which operates under the aegis of CAST.
According to the agreement, the Joint Laboratory will set sight on latest advancement in the field of Mechanics and Space Environment Engineering and to kick start and foster research in this area. The Joint Lab is expected to enhance research capacity and competitiveness, and with concerted efforts from both parties, build a strong research team.
On PolyU side, this new collaboration has widened its scope and expertise of participating in national space projects. In addition to having Professor Yung Kai-leung (an expert member appointed by China National Space Administration's Lunar Exploration Program Centre for the third phase of China's lunar exploration programme) on board, the new deal has engaged the participation of PolyU's Department of Mechanical Engineering, including Professor Cheng Li (Chair Professor and Head); Dr Su Zhongqing (Associate Professor); Dr Jing Xingjian (Assistant Professor); Dr Choy Yat-sze (Assistant Professor) --- all of them are pioneering researchers in their own field --- to support the Joint Lab.
The University has been working closely with CAST. Both parties first signed a pact in 2010 for the establishment of a Joint Laboratory in Precision Engineering for Space Applications. CAST also donated advanced space research equipment for the first Joint Laboratory. The Joint Laboratory in Mechanics and Space Environment Engineering will be the second joint laboratory co-founded by PolyU and CAST.
Established in 1968 with the late aerospace scientist Qian Xuesen as its founding President, CAST is currently the most important research and engineering base for China's space flight missions. It is an integral unit of the China Aerospace Science and Technology Corporation.
*****
Press contact: Professor Cheng Li
Chair Professor and Head, Department of Mechanical Engineering
Tel: (852) 2766 6769
Email: mmlcheng(at)polyu(dot)edu(dot)hk
Press contact: Mr Wilfred Lai
Division Head (Media and Community Relations), Communications and Public Affairs Office
Tel: (852) 2766 5218
Email: wilfred.lai(at)polyu(dot)edu(dot)hk