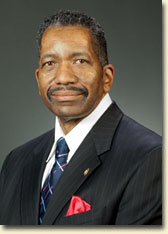 Santa Ana, California (PRWEB) April 03, 2013
THINK Together moved to strengthen its Board of Directors with the appointment of Gilbert F. Ivey, Chief Administrative Officer of the Metropolitan Water District of Southern California.
"Gilbert will be a great asset to our board of directors," said Randy Barth, the Founder and CEO of THINK Together, the state's leading and largest nonprofit provider of extended learning time programs. "Gilbert's business, nonprofit and government expertise will benefit us as we look for more ways to improve the lives of the children we serve."
Ivey is a 40-year veteran of MWD. He began as a summer trainee while in high school and held various positions before being promoted as an executive at the nation's largest wholesale water agency.
"As someone who values education, I am honored to be a part of THINK Together's efforts to close the achievement gap in our state and get our students ready to compete in the 21st Century global economy," Ivey said. "I look forward to working with my fellow board members as we find ways to expand THINK Together's reach and help even more students reach their full potential."
Ivey has led various complex and sensitive negotiations ranging from Board governance issues with the California state legislature to real estate and labor issues. As interim CEO, he represented MWD at the historic signing of the Lower Colorado River Multi-Species Conservation program. He was also involved with one of the largest water transfers from agriculture to urban use.
Ivey is responsible for managing the administrative functions of the district, including the business services and information technology group. He also manages MWD's award-winning business outreach program with more than 15,000 certified small businesses and its headquarters building at Union Station, where he oversees human resources with nearly 2,000 employees as well as the management of MWD's real property portfolio of approximately 190,000 acres of land.
He was the project director in charge of development and construction of MWD's headquarters at Union Station. At 535,000 square feet above ground and another 317,000 square feet below ground, he delivered this $135 million facility two months ahead of schedule and under budget.
Ivey has contributed to the community by serving in leadership positions on numerous boards and commissions. He was awarded the Southern California Leadership Network's Visionary Award for Public Sector Leader of the Year in 2009. In addition to THINK Together, he currently serves on the executive boards of the Los Angeles Area Chamber of Commerce, Los Angeles Central City Association, California State University Dominguez Hills Foundation Board, American Association of Blacks in Energy, the Infrastructure Academy and the Los Angeles County Fairplex Advisory Board. He is also on the Los Angeles Business Federation Board, which represents over 200, 000 business members.
Ivey also received special recognition in 2005 by the Greater Los Angeles African American Chamber of Commerce. His most recent accomplishment was being named to Who's Who in Black Los Angeles 2010.
Born in Oceanside and raised in Compton, California, he earned a bachelor's degree in business administration from California State University, Dominguez Hills. He also has earned several professional designations and certifications in management from both Pepperdine University and the University of Southern California.
About THINK Together
With more than $60 million in annual revenue, THINK Together is one of the leading and largest nonprofit providers of academic support programs (early literacy, after-school, small group tutoring, summer learning, etc.) in the U.S., serving more than 100,000 students across 420 locations in 35 school districts and more than 30 cities across a five-county footprint of Southern California (Los Angeles, Orange, Riverside, San Bernardino and San Diego) plus greater Sacramento. Partnering with school administrators and teachers, its academically oriented programs and dedicated team of 2,500 employees are helping students close the achievement gap. THINK is an acronym: Teaching, Helping, Inspiring & Nurturing Kids. For more information, call (888) 485-THINK or visit http://www.THINKtogether.org or http://www.facebook.com/THINKtogether.
# # #