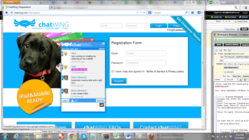 Boston, MA (PRWEB) April 03, 2013
Chatwing.com, with its latest innovative chat software, expanded to the Google marketing premise. The developers have currently noted that Google marketing is still growing as ever—all because of Google's reliability in connecting people from different parts of the world. The Chatwing application is embeddable to any blog and website and can ensure up to 80% increased traffic rate. Google marketers can use this tool to boost any marketing campaign that they have.
The Chatwing chat app comes with a reliable social media integration feature. Through this leverage, visitors of the chatroom can log in with their social media accounts such as Facebook and Twitter. Recently, the company has added Google and Yahoo login options. Marketers on these platforms can benefit a lot from the Chatwing tool because it has a thousand-user capacity. It also has the potential to improve the traffic rate of any blog or website.
When it comes to customization, the chatroom tool never falls behind. In the dashboard, there are dozens of colors to choose from. These colors can be combined with background images, text styles, and custom sizes. If the user knows how to tinker with applications, he can now use the CSS customization option. The banning and control system of the chatbox is also profound, granting key advantage to all registered users.
Google marketers can also use the application to introduce the nature of their websites, products, and services. The chat app allows users to upload their custom background images, as long as the links are valid. This contributes to a steady branding process.
About Chatwing.com
Chatwing.com specializes in the new field of website chat. Over years, the development team has introduced live chat widget for hundreds and thousands of blogs. The application bridges people from many parts of the world, creating global synergy through the Internet. The shout box can be installed in just seconds, and it can be used for varying purposes such as leisure and Internet marketing. It also allows a user to customize the size, color, and name of the widget.