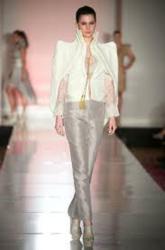 Burbank California (PRWEB) April 03, 2013
On April 27, Woodbury University will host its 49th Annual Fashion Celebration, which includes a runway segment of student work and a scholarship fundraiser.
In addition to this year's opening gala, the spotlight attraction will be an encore public fashion show on May 2nd held at Los Angeles Center Studios in downtown Los Angeles.
General admission seating for the public show sold out in three hours from going live on http://www.WoodburyFashion.com and the RSVP list of VIP's and Media attending is the largest in the schools history..
Apparel News reports that Woodbury's fashion department chair, Kathryn Hagen, has set the program's changes into motion. With a new curriculum, updated facilities, digital media focus and new classes being led by industry-tested leaders, like former Juicy Couture executive, Gerard Dislaire.
The Programs popularity is founded in its ability to give fashion students the resources and professional interaction they need to prepare for a long term career in the fashion industry.
For more information on Woodbury University Fashion and Design Program go to: http://www.woodburyfashion.com
About Woodbury University
Founded in 1884, Woodbury University is an accredited institution located in Burbank, Calif. that offers prospective students an array of undergraduate degree options such as fashion design, fashion marketing, architecture and more. Their mission is to provide a creative and innovative curriculum to students, while fusing real-world experience into every program.