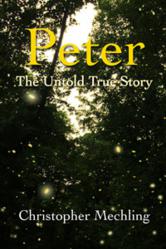 He is of low stature, not exceeding five feet three inches; and though he must be now about 70 years of age, [he] has a fresh, healthy look
San Diego, CA (PRWEB) April 03, 2013
Author Christopher Mechling's new historical novel Peter: The Untold True Story tells of a boy named Peter who would not grow up- a boy whose historic life is mirrored in the fairy tale of Peter Pan. With its official release date set for May 4, 2013, readers can be pre-order a print copy of the book from the author's official website or go to iTunes to pre-order a digital copy from Apple's iBookstore.
Peter was a boy of few words, but his character captivated the imaginations of King George I, Caroline of Ansbach, and many of England's best contemporary writers and thinkers, including Daniel Defoe and Jonathan Swift. So popular was Peter when he was first introduced to English society in the spring of 1726 that Jonathan Swift remarked, "...there is scarcely talk of anything else."
Estimated to be about twelve years old, Peter had been discovered living alone in the forest of Hamelin, Germany. It seems he left his parents when he was very young and learned to survive on his own, perhaps with the help of some forest animals. An instant public sensation, Peter was the talk of London for several years.
The Royal Family took a personal interest in Peter. Caroline of Ansbach, wife of George II and future Queen of England, was touched by Peter's innocence, and took the boy into her care. It was the hope of the Royal Family, not only to provide for Peter's future, but to help him grow up to be an ideal English gentleman.
To the satirist Jonathan Swift, the attempt to civilize Peter seemed a vain effort. In his essay, It Cannot Rain But It Pours, he wrote, "Let us pray the Creator of all beings, wild and tame, that as this wild youth by being brought to court has been made a Christian, so such as are at court, and are no Christians, may lay aside their savage and rapacious nature, and return to the meekness of the Gospel."
Daniel Defoe took the effort to educate Peter more seriously. In a pamphlet titled Mere Nature Delineated, he wrote, " ... It would indeed be a terrible satire upon the present inspired Age, first to allow this Creature to have a Soul, and to have Power of thinking, qualified to make a right judgment of Things, and then to see that under the Operation and Influence of that regular and well-ordered judgment, he should see it reasonable to choose to... retire again from human Society, rather than dwell among the informed of Mankind."
Peter learned many things, but never grew up- he remained a wild youth, and was ultimately celebrated for this. Even after he retired to a comfortable life in the country, Peter was a legendary figure in England, and attracted visitors to his home for decades.
Throughout his life, even into his seventies, Peter maintained a youthful appearance and energy. Evolutionary theorist Lord Monboddo, who visited Peter in 1782, said of the Wild Boy, "He is of low stature, not exceeding five feet three inches; and though he must be now about 70 years of age, [he] has a fresh, healthy look. His face is not at all ugly or disagreeable, and he has a look that may be called sensible and sagacious, for a savage. [He] had always that gentleness of nature, which I hold to be characteristical of our nature, at least until we become carnivorous, and then hunters or warriors. He is said to have sometimes run seventy or eighty miles a day. His strength always appeared to be so much superior that the strongest young men were afraid to contend with him, and this strength continued almost unimpaired till about a year and a half ago."
Christopher Mechling's imaginative dramatization captures the poignant experiences of Peter and the people who interacted with him. The epic story of the Wild Boy's life, spanning more than seventy years, navigates a tumultuous and thoughtful period in English history, rich with characters.
Peter: The Untold True Story is scheduled to be released May 4, 2013. It will be distributed to bookstores through Ingram, and booksellers can register here to be notified when the book is available for order. Readers may pre-order printed copies of the historical novel online now at http://www.christophermechling.com, or go to iTunes to pre-order a digital copy from Apple's iBookstore.