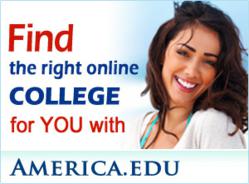 america.edu - Top University Degree and online degree Programs
(PRWEB) April 05, 2013
It's important to have a good education. There are a lot of different websites that will give information about colleges and universities, but often times there will be a myriad of different websites just to get a good idea of the prospective college or university. America.edu has now launched their new and improved website which reduces considerably the time it takes to research prospective universities or colleges.
This time isn't something that should be underrated. Researching colleges can easily take a lot of time, and while it's important to know everything that possible about a potential institution that is being considered, finding the pertinent information shouldn't be difficult. With their newly revamped website, America.edu is changing this process, for the better.
The new format allows a person to search for anything that they'd ever want - including information on public, private, or online schools. The information includes scholarship information and reviews for all popular fields of study. In addition, there are also popular articles that people find interesting, including tips and common debates that are currently revolving around schooling.
The most interesting facet of the new and improved website would have to be the fact that it doesn't just include large schools. Virtually every school is covered, allowing just about every student to find some information regarding a program that they're thinking of joining. There are also tips and rankings of the top schools in the country, which allows the student to actually cut down on some of their college choices and further informs them about their future prospects.
Undoubtedly, America.edu is a website that can help an opinion about any school. Considering that this is probably one of the most important decisions in one's life, it's always good to know that there is a website that is willing to provide all the necessary information to make an informed decision.