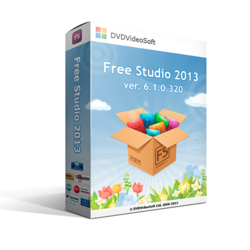 New York, NY (PRWEB) April 04, 2013
The new release of the main DVDVideoSoft's product is full of bright helpful features and timely corrections. Fairly enough it is called a 'Spring Release' as all current improvements come like fresh spring air for multimedia freeware world.
This update includes changes in Free Video Call Recorder for Skype, the first limitless free software for registering Skype video calls. The program is now available for Windows XP users and, moreover, it has been translated to 11 languages including: Dutch, Greek, Hungarian, Polish, Portuguese, Spanish and others. 
Besides, video encoding quality and camera capture accuracy have been improved in the program. Other convenient feature is that if the Skype recorder is minimized to the system tray and the user gets a new call, the program will pop up automatically from the tray offering him/her to start the recording if needed. Furthermore, now it is possible to choose where the caller's video window will be located in the output video: Left, Right, Top or Bottom.
YouTube downloading software is improving constantly. The programs are even easier to use with their new interface. Moreover, they integrate dedicated buttons into Google Chrome, Firefox and Internet Explorer browsers, the downloading buttons appear right below the video player on all YouTube pages. The company has also announced that the performance of applications through Proxy connection has been improved and the speed of URLs detection has been increased.
The update for Free Studio 2013 containing important fixes and all new features is available for download from the company's website http://www.dvdvideosoft.com.
About DVDVideoSoft:
DVDVideoSoft is an independent developer of multimedia software programs for video and audio processing. The company was founded in 2006 as an affiliate distributing paid software. Today DVDVideoSoft offers 49 multifunctional easy-to-use applications with step-by-step instructions on how to solve different multimedia tasks with the help of its programs and, if necessary, provides free comprehensive support in English, German, French, Spanish, Italian, Russian, Japanese languages. Daily rate of visitors addressing http://www.dvdvideosoft.com is constantly growing and today reaches 450,000.