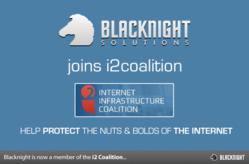 One of the goals of the i2Coalition is to bridge the gap between those who understand how Internet infrastructure works and affects users, and those who need that information to make decisions on behalf of the public
Carlow, Ireland (PRWEB) April 03, 2013
Blacknight (http://www.blacknight.com/) , Ireland's leading domain registrar and hosting company is proud to announce that it is now a member of the i2 Coalition.
The i2 Coalition, also known as Internet Infrastructure Coalition, supports those who work behind the scenes to build the nuts and bolts of the Internet. They are dedicated to fostering the continued growth of the Internet, which is vital for continuing to develop an environment of innovation.
Michele Neylon of Blacknight explains: "The infrastructure of the Internet is massive with loads of companies working in concert to make sure that end users have a seamless experience online. Because we are so spread out geographically, working in this space can be a bit isolating. The i2 Coalition allows those of us in the Internet industry working towards a common goal to be formally joined together."
The i2Coalition is a trade association of companies from the Internet infrastructure industry in areas such as; web hosting, data centres and registrars. The organisation was formed to undertake key initiatives, such as: representing the industries interests with relevant regulatory agencies; educating the media, members of Congress and key legislative and regulatory stakeholders on the complexities and workings of the Internet; and developing and sharing best business practices with fellow members.
Christian Dawson, co-founder of the i2 Coalition explains: "One of the goals of the i2Coalition is to bridge the gap between those who understand how Internet infrastructure works and affects users, and those who need that information to make decisions on behalf of the public. We are pleased that Blacknight has formally joined the i2Coalition as they are already engaged in working toward transparent Internet education. We share a common goal of guiding the Internet into maturity through education, and ensuring that regulations and government policies allow Internet infrastructure companies to continue to innovate and compete in today's global economic setting."
Neylon Continues: "Blacknight is very proud to be a part of this organisation as we are aligned in both message and purpose. We believe that a great deal of good will come about when more people, particularly those in key decision making positions understand the inner workings of the Internet."
About i2Coalition:
The i2Coalition coalition will facilitate public policy education and advocacy, develop market-driven standards formed by consensus and give the industry a unified voice. Members will receive the support and tools they need to be heard in Washington and by their state and local officials across the country. Interested parties can visit http://i2coalition.com/get-involved/ for more information about membership. Board members include representatives from the Endurance International Group, INET, ePanel, Inc, and Rackspace Hosting.
About Blacknight:
Blacknight (http://www.blacknight.com/) are an Irish based, ICANN accredited domain registrar and hosting company. Recipients of several awards for their revolutionary use of social media, Blacknight are one of Europe's most cutting edge Internet companies. Blacknight constantly seek to lead the way by introducing innovative solutions for its client base and provide dedicated servers and co-location as well as a comprehensive range of Microsoft Windows and Linux based hosting plans and domain name registration services to business globally.