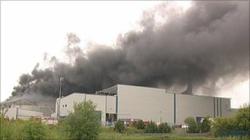 Victims of the fire are urged to come forward and speak to a legal professional.
UK Bolton (PRWEB UK) 4 April 2013
The Health and Safety Executives (HSE) have recently reported that despite manufacturing industries only accounting for 10% of the British workforce, they are responsible for 25% of employee fatalities*. Asons solicitors understand the prevalence of factory accident compensation claims, particularly in response to upcoming Sonae Factory Fire cases.
On their website Sonae Industria state that they are committed to –
"The minimisation of the environmental impact of our facilities on the local & global environment "**
Unfortunately, as reported by BBC News****, these standards weren't upheld within their UK factory in Kirkby, Liverpool.
According to BBC News, on the 9th June 2011 a severe fire broke out at the Sonae Industria UK Ltd. Factory, burning for eight days and continuing to smoulder for over a week. The fire originally ignited within the factory's concrete bunkers, which contained around 12,000 tonnes of highly flammable woodchip.
As quoted in the BBC News article, at the time, local MP George Howarth made the following statement–
"This latest incident at Sonae serves as yet another example of the fact that this plant is unstable and hazardous to local residents, businesses and those who work there."
Time has shown that Mr Howarth was correct in his concerns. As reported by the BBC the smoke emitted by the factory fire contained harmful debris, dust, fumes and chemicals; causing damage to both the buildings and the people who lived and worked within the area.
According to the report, the smoke contained a blue/grey residue; which, as well as coating windows and causing damage to carpets and curtains, caused such severe reactions in residents, that they had to be admitted to hospital.
Personal Injuries to local residents included:

Skin problems, including – severe itching, eczema and skin rashes.
Sore, itchy eyes; as extreme as conjunctivitis.
Nose bleeds and headaches.
Breathing problems, often exhibited as a chesty cough.
As reported on BBC News*****, as of 29th January 2013, Sonae Industria Ltd. have admitted a breach to their duty of care***, taking responsibility for the impact of the fire. Consequently, those who have sought the advice or treatment of a medical professional, as a direct result of the fire, have the opportunity to claim factory accident compensation.
Despite the fire occurring a couple of years ago, this recent admission of guilt from Sonae Industria Ltd. means victims of the fire are urged to come forward and speak to a legal professional.
At Asons solicitors we pride ourselves on our provision of first-class legal advice and support; particularly in relation to factory accident claims. Our team of specialist industrial disease solicitors have a wealth of expertise and knowledge that you will be hard pressed to find elsewhere.
If you, or someone you know, live locally to the Sonae factory in Kirkby, Liverpool, and have suffered as a direct result of the fire, speak to Asons today to find out about what kind of help is available. You can contact them on: 0844 850 1062 or you can fill out their claim form at http://www.asons.co.uk
Sources:
*hse.gov.uk/statistics/industry/manufacturing/index.htm
**sonaeindustria.com/page.php?ctx=1,0,48
***en.wikipedia.org/wiki/Sonae_Ind%C3%BAstria
****bbc.co.uk/news/uk-england-merseyside-13739063
***** bbc.co.uk/news/uk-england-merseyside-21233986

About Asons Solicitors:
Asons Solicitors is a Bolton-based law practice that specialises in medical negligence claims. Founded by brothers Imran Akram and Kamran Akram, Asons Solicitors has evolved into a young and dynamic law firm that delivers practical solutions to clients in times of difficulty. Their continued focus on their staff has seen them awarded with the Investors in People "Gold Award"; which is reflected in the professional and personable approach they take in working with clients. They strive to grow and to develop, and their supportiveness and attention to detail ensures that their clients use them time and again.
For further information contact:
Email: info (at) asons (dot) co.uk
Website: http://www.asons.co.uk