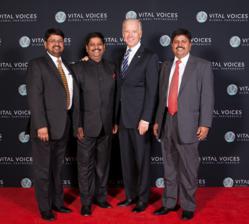 Washington, DC (PRWEB) April 03, 2013
Last night at The John F. Kennedy Center for the Performing Arts, 2500 honored guests gathered to recognize the value and impact of women's leadership globally during the Vital Voices Global Leadership Awards.
Presenters included Vice President Joe Biden, who recognized three Indian brothers leading efforts to end violence against women. In her introduction of Vice President Biden, Chair of Vital Voices Board Susan Ann Davis said, "For years, Vital Voices has recognized that our most important allies are, and must be men."
"In the end we know this is more than just policies and legislation," said Vice President Biden about violence against women. "We have to change fundamental norms and we have to let women around the world know that they aren't standing alone, that they don't have to accept their circumstances, because we won't accept it either."
Featured presenters included: Diane von Furstenberg; Tina Brown; America Fererra; Ann Curry; Nicholas Kristof; Chair of the Board of Vital Voices Susan Ann Davis and Vice-Chair of the Board Dr. Carol Lancaster.
Hillary Rodham Clinton, founder of Vital Voices, said of the evening's honorees, "Each of them is a remarkable example of what can be achieved when courage and compassion meet." Mrs. Clinton presented a tribute to outgoing Ambassador-at-Large for Global Women's Issues Melanne Verveer, recognizing her years of service and commitment to advancing the status of women globally.
WATCH: Hillary Rodham Clinton remarks at the 2013 Vital Voices Global Leadership Awards.
Now in its 12th year, the Global Leadership Awards honor courageous, innovative women whose leadership advances economic, political and social progress in their communities and beyond. This year's ceremony was dedicated to the memory of Northern Irish peace activist Inez McCormack, who had long been involved with the organization. Vital Voices was formed in 1997 as an initiative of the U.S Department of State by then-First Lady Hillary Rodham Clinton and then-Secretary of State Madeleine Albright. Now a nongovernmental organization, it trains, mentors, and connects leaders in a network of 14,000 women in 144 countries.
"This night represents what is possible when we invest in leaders who see and create a world where all have access to freedom, dignity, and opportunity," said President and CEO of Vital Voices Alyse Nelson of the Global Leadership Awards. "The leaders we recognized represent thousands more whose leadership empowers others in the name of shared progress."
The 2013 Global Leadership Awards honorees include: Brazilian Chief of the Police Academy Sandra Gomes Melo (Human Rights Award); Somali Refugee Camp Dr. Hawa Abdi (Fern Holland Award); Palestinian businesswoman and innovator Manal Yaish Zraiq (Economic Empowerment Award); Cambodian land rights activist Tep Vanny (Leadership in Public Life Award); Indian advocates and activists addressing violence against women The Kant Brothers (Solidarity Award); and Pakistani education advocate Malala Yousafzai (Global Trailblazer Award).
Vital Voices launched its GIVE 2013 campaign following the awards program. To learn more, please visit http://www.vitalvoices.org, Twitter @VitalVoices and Facebook at facebook.com/vitalvoices for news and highlights.
Footage and photography are available upon request. Please email vikkiloles(at)vitalvoices(dot)org.
Vital Voices Global Partnership is a leading non-governmental organization that identifies, invests in and brings visibility to remarkable women around the world by unleashing their leadership potential to transform lives and accelerate peace and prosperity in their communities. Founded by U.S. Secretary of State Hillary Clinton in 1997, the organization trains and mentors women leaders as agents of transformative change in economic development, human rights and political participation. The Vital Voices Global Leadership Network includes more than 14,000 leaders representing 144 countries who have trained and mentored 500,000 additional women and girls in their communities. Visit http://www.vitalvoices.org to learn more.