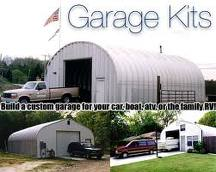 backed by a 50-Year Manufacturer Warranty
Fort Lauderdale, FL (PRWEB) April 05, 2013
With the economy posting sluggish growth and personal finance standards remaining tight International Buildings LLC., leader in steel buildings manufacturing takes the lead in offering consumers and business owners 100% financing on used and customize prefabricated building kits.
Steel and metal building kits are a versatile option for residential, commercial and agricultural consumers. According to building SteelBuildingsUs.com prefabricated building kits are used as metal carports, metal garages, equipment storage, homes, airplane hangars, offices, recreational facilities, and pole barns. A steel buildings dealer will help a customer identify the correct building size and shape for his personal or business needs.
SteelBuildingsUs.com has set itself apart from competitors with a first rate website that is beautiful and easy to navigate. Along with plenty of information about each kit offered, there is a Frequently Asked Question section where those who want to learn all they can about steel buildings can get educated right away. Instant quotes are available right over the site as well as a gallery where it is easy to see just how these kits look once they are assembled.
Residential – Model A 16 X 30from protecting vehicles to valuable collections the ultra-tough DIY buildings:

Carports
Storage Sheds
Garages
Workshops
Homes
Recreational - Model R 30 X 60 engineered to withstand the harshest environment on earth:

Sport Buildings
Boat / Jet Ski
RV Storage
Aircraft Hangar
Motorcycle
Commercial - Model S 20 X 60 easy-to-construct building kits are perfect for any building application providing extra storage space for your services and goods.

Body and Repair Shops
Storage / Service Building
Retail Store
Commercial Storage
Park Maintenance
Agricultural - Model Q 20 X 100 versatile building kits for equipment storage and farming are an alternative to common pole barn due to easy construction and durability.

Pole Barns
Livestock
Hay Storage
Grain Storage
Horse Barn and Stall
International Buildings is focused on sustainable development fostering the ability to achieve continuing economic prosperity while protecting the natural systems of the planet and providing a high quality of life for its people. Our mission is to ensure that what we build today won't negatively impact tomorrow's generations. Customers around the world are getting the best "green" choice of attractive, environmentally friendly structures with unlimited custom design flexibility and 100% usable space crafted from the world's finest, sustainable Galvalume heavy gauge steel backed by a 50-Year Manufacturer Warranty now with 100% Financing. Go green, save green!
Metal Pre-Engineered Building Kits Specials: http://www.steelbuildingsus.com/index.php