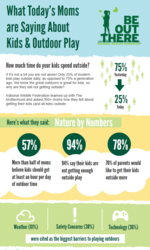 This guide shows that children are safe to play outside in most kinds of weather barring the extremes.
Reston, VA (PRWEB) April 05, 2013
Spring showers, summer sunshine and windy days are no reason to keep your kids inside, says a new guide from the National Wildlife Federation (NWF) that shares new survey results of 1,000 parents. The Forecast Calls for Play reports that 61 percent of parents cite weather as the number one reason their kids do not get outside. According to the guide, parents' aversion to letting their kids play outside in less-than-perfect weather is depriving them of the many physical and mental benefits outdoor play can provide.
The new guide emphasizes the growing disparity between kids and outdoor play time, some of which is brought about by misguided weather concerns.
"This guide shows that children are safe to play outside in most kinds of weather barring the extremes." said Lindsay Legendre, manager of NWF's Be Out There program. "Regular outdoor play is so important to kids' healthy development and a little rain shouldn't stop them from being out there. Parents might enjoy puddle jumping again themselves."
The guide explains the proactive measures parents can take to placate their concerns and gives helpful tips for making outdoor play fun, no matter what type of weather:
Here are just some of the helpful tips and suggestions The Forecast Calls for Play guide has to offer:

In rainy weather: Keep an eye on the weather and if storm conditions develop get out of any body of water and seek shelter in a nearby building and make sure to go over how to respond to storms with your kids. Prepare for mud and splashes in advance and keep a heavy mat and some towels by the front door before going out.
In hot weather: Make sure to have plenty of water available and take precautions like applying sunscreen, wearing light colored loose-fitting clothes and trying to schedule outdoor time during the cooler parts of the day (early morning and evening).
Studies show that children who spend more time outside are more likely to live an active lifestyle, maintain a healthier body weight, are less likely to be near-sighted, have higher vitamin D levels, display more empathy and less stress, have better mental health and have increased attention spans and improved critical thinking skills. In addition, when kids fail to get quality time playing and exploring outside in different kinds of weather, they fail to develop a close relationship with nature and an appreciation for the different seasons and what they contribute to the world around us.
Download the full guide at http://www.BeOutThere.org/Weather for more tips and advice for parents. For other helpful resources and to learn more about NWF's goal to get 10 million more kids spending regular time in the great outdoors, visit: http://www.BeOutThere.org.
For more National Wildlife Federation news, visit: http://www.nwf.org/news.
National Wildlife Federation is America's largest conservation organization, inspiring Americans to protect wildlife for our children's future.