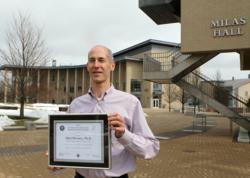 Needham, Massachusetts (PRWEB) April 04, 2013
Allen Downey, professor of computer science at Olin College of Engineering, recently won the Undergraduate Computational Engineering and Sciences (UCES) Award. The award, funded by the Department of Energy Computational Science Graduate Fellowship program, recognizes undergraduate faculty who develop courses, programs or curricular material that are innovative and transferable to other programs.
Downey was recognized for developing an innovative undergraduate class in Complexity Science and an accompanying textbook, Think Complexity (O'Reilly Media, 2012). He presented his work at the recent Society of Industrial and Applied Mathematics Conference on Computational Science and Engineering in Boston. Assistant Professor Jimmy Franco of Merrimack College and Assistant Professor David Toth of the University of Mary Washington were also honored for their entry, Computational Laboratory Activities for Medicinal Chemistry.
Charles Swanson, UCES Award chair, noted that judges felt that the two winning projects represented "outstanding educational innovation in different areas of computational science."