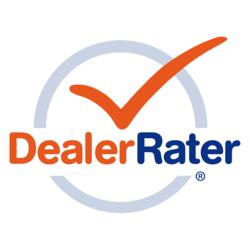 DealerRater remains committed to offering the dealer community the most innovative products and services in the reputation management and social media arenas, which is why we chose to integrate with such a market leader as vAuto
Waltham, MA (PRWEB) April 08, 2013
DealerRater, the world's premier car dealer review web site, today announced a partnership with vAuto to integrate DealerRater car dealer reviews into vAuto Genius Labs' AutoVisor product, a dynamic vehicle validation tool. Through this partnership, more than 1 million car dealer reviews are integrated and easily accessible in the AutoVisor tool. The AutoVisor tool also integrates with other leading data sources including AutoTrader.com, CARFAX, and Kelley Blue Book's KBB.com. These integrations make AutoVisor the only used vehicle sales tool that gives dealers and their customers greater confidence in every deal.
"DealerRater remains committed to offering the dealer community the most innovative products and services in the reputation management and social media arenas, which is why we chose to integrate with such a market leader as vAuto," said Chip Grueter, DealerRater president. "With this integration, AutoVisor reports now provide immediate access to the largest online resource of dealer reviews, which helps car buyers gain greater confidence that they've found a dealer dedicated to quality customer service."
Powered by vAuto's Live Market View technology, dealers can generate real-time AutoVisor reports with a single click when a customer indicates interest in a vehicle, either online or in the showroom. Each on-demand report details the car's condition/mileage, reviews and specifications; compares the car and its price with similar units in the market; and highlights customer reviews and testimonials about the dealership.
Auto dealers will be able to showcase three of their DealerRater reviews in an AutoVisor report, including a direct link to the dealer's review page on DealerRater.com.
"In addition to knowing they've got the right car and the right price, today's consumers want to know they're doing business with a good dealer," says Todd Kinzle, director of operations for vAuto Genius Labs. "The AutoVisor integration with DealerRater provides the trusted customer reviews and testimonials that help dealer sales teams consistently and effectively echo the 'why buy with us?' value proposition consumers look for online."
The DealerRater site receives a new review submitted every 55 seconds. With its unparalleled volume of dealer reviews now surpassing 1 million, 26 percent of all franchised dealers in the U.S. have embraced DealerRater and its award-winning Certified Dealer Program as a critical component of their online reputation management efforts. On average, DealerRater.com and other web site pages that display DealerRater content or branding attract more than 3 million unique visitors per month.
For more information, visit http://www.DealerRater.com, or call 800-266-9455.
About vAuto:
vAuto provides innovative technology, tools and business intelligence to help dealers improve their used vehicle department sales and profits. vAuto's Provision® Suite offers premium products that guide used vehicle acquisition, appraisals, pricing, merchandising and transparent sales processes for dealers based on real-time supply-and-demand data in their markets. vAuto Genius Labs provides smart, simple and stand-alone solutions that address everyday used vehicle management challenges. Today, thousands of dealerships across the United States and Canada rely on vAuto's industry-leading solutions. vAuto's visionary founder Dale Pollak has just released Velocity Overdrive: The Road to Reinvention. The book is the third in his best-selling Velocity series, which guides dealers to greater success through the Velocity Method of Management. Headquartered in the Chicago suburb of Oak Brook, IL, vAuto maintains a research and development center in Austin, TX, and the vAuto Genius Labs office in Longmont, CO. vAuto is a wholly owned subsidiary of AutoTrader Group. Additional information about vAuto is available at http://www.vauto.com.
About DealerRater:
DealerRater was founded in 2002 as the first car dealer review website worldwide. DealerRater is the world's #1 online resource for anyone seeking trusted third-party information on automobile dealerships. DealerRater features nearly 40,000 U.S. and Canadian car dealers, 1 million consumer reviews and over 1 million cars for sale. DealerRater attracts more than 9.5 million consumers every year who visit the site to search for car dealerships, read reviews, write their own descriptive reviews, and find car deals – all for free.
In addition, DealerRater offers qualified car dealers a Certified Dealer Program as a reputation management tool to help them grow their online presence and achieve higher SEO rankings across the Web. Today, nearly 4,700 dealers are members of the award-winning DealerRater® Certified Dealer Program. DealerRater is proud to have earned the #137 position on the 2012 Inc. 500 list, an exclusive ranking of the fastest-growing private companies in the United States. DealerRater was also the recent recipient of a "Top Rated" Reputation Management Award in the fourth annual DrivingSales Dealer Satisfaction Awards. For more information, visit http://www.DealerRater.com or call 800-266-9455.