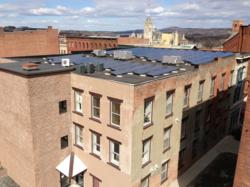 LinguaLinx is pleased to be working with New York Light Energy in providing a solar power solution to help us increase our power independence and reduce our energy costs.
- David Smith, President
Cohoes, New York (PRWEB) April 03, 2013
LinguaLinx, Inc., a full-service provider of multilingual communication services such as document and website translation, announced today that it will use green energy to power facilities.
By utilizing solar panels, the company will replace much of its traditional energy consumption with environmentally friendly electricity.
Excess power created by the solar panels can be provided to the utility grid, further increasing the availability and use of green energy.
By choosing to use green electricity, LinguaLinx is reducing environmental impact and supporting the development of renewable generation in New York's capital region. This reduces the need for power from a utility provider and promotes energy independence.
While LinguaLinx estimates a 76.52% reduction in energy costs, the price to install and maintain solar power is often prohibitive. To overcome this barrier, LinguaLinx has entered into a 20 year Solar Power Purchase Agreement (PPA) with New York Light Energy, a Latham New York-based company offering cost-effective solar power.
According to the agreement, New York Light Energy conducts a structural and electrical analysis of facilities prior to installation. The company then designs, installs and operates a photovoltaic (PV) power system. LinguaLinx pays for the green electricity produced by the solar paneling with no required investment in equipment or maintenance.
David Smith, president of LinguaLinx, said the company is active in practicing social and environmental responsibility. The company won the 2012 "Spirit of Cohoes" award for outstanding service to local community residents and businesses. The new 30,000 kW solar unit will help LinguaLinx maintain its environmental stewardship during periods of growth and expansion.
"Consistent with our mission to be an ecologically responsible company, LinguaLinx is pleased to be working with New York Light Energy in providing a solar power solution to help us increase our power independence and reduce our energy costs."
Alex Lieb, New York Light Energy's CEO, echoed Smith's conviction that green energy is a win-win proposition for preserving the environment and reducing utility costs.
"New York Light Energy is proud to support LinguaLinx, a leader in multicultural marketing, during its transition to renewable solar energy that will power LinguaLinx for decades to come," said Lieb. "Customers and employees will all benefit from a commitment to environmentally friendly renewable energy which will help to power the growth of LinguaLinx."
While companies such as New York Light Energy make green power feasible, Smith also stressed
that companies not taking advantage of green initiatives can start with small steps to lessen environmental impact.
Suggestions include recycling programs and reducing the amount of documents printed. For large documents that require printing such as business proposals, contracts and reports, it is beneficial to print two-sided on recycled paper when possible.
About LinguaLinx, Inc.
LinguaLinx, Inc. is a full-service international communications company providing an array of services ranging from outsourced documentation, XML migration and content authoring to multilingual solutions in over 100 languages such as translation, interpreting and desktop publishing. LinguaLinx partners with clients to enhance all aspects of their content lifecycle and achieve a greater return on their multicultural marketing efforts. More information can be obtained by visiting http://www.lingualinx.com.