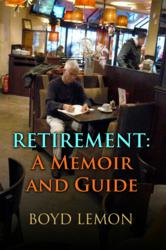 A Reader's Comment About Retirement: A Memoir and Guide:*

"I loved this book. Mr Lemon is a wonderful author and shares his experiences in a very thoughtful and thorough way. I hope he follows this work up with another book...."
St. Marys, Georgia (PRWEB) April 10, 2013
Financial preparation for retirement is important, but just as important is emotional preparation. There are many ways to insure a fulfilling retirement, as described in detail in Boyd Lemon's book,"Retirement: A Memoir and Guide. Here are the top 5:
1. Develop a passion.
If you already have a passion. Fine. Pursue it. But if you don't or aren't sure, and many don't after focusing on their careers for 40 years or more, discovering one or more is the best way to put you on the road to a fulfilling retirement. Boyd Lemon's book shows you numerous steps to take to discover your passions and how the author discovered his.
2. Lower your expectations of people and events.
Most people have expectations that are too high, and when those expectations are not met, they become disappointed, sad, sometimes even depressed. The lower your expectations are, the happier you will be. "Retirement: A Memoir and Guide shows you how to do this. It's a matter of mind control, and anyone can do it with appropriate effort.
3. Live in the Moment.
This means not to focus your thoughts on the past (which you cannot change), nor on the future (which you cannot control), but on the present, which in reality is all there is that you can experience. If you can spend most of your time living in the present, focusing on what is right in front of you, you will experience more of the beauty of life and the world around you and live happier. Boyd Lemon's book tell you how to do it.
4. Try Meditating.
Meditation for 20 to 30 minutes each day will help you live in the present, experience more of life in a more relaxed mood and focus on what is important in your life. There are many good books to get you started, and Boyd Lemon's book provides helpful hints and resources.
5. Minimalize.
Live in a smaller space with less stuff. Give away or sell all the stuff that you don't use or doesn't have major sentimental value. Living in a space larger than you need and keeping stuff you don't use requires you to spend much of your time maintaining, repairing, cleaning, organizing and making space for all your stuff. Then you buy more stuff. Save your time and energy for living life, not maintaining and acquiring stuff and space you don't need, and you will live a happier, more fulfilling life.
Boyd Lemon's book, "Retirement: A Memoir and Guide" tells you in detail how to accomplish all this and discusses many other ways that lead to a fulfilling retirement and avoid the pitfalls of having so much leisure time that you become depressed.
About Boyd Lemon
Boyd Lemon lived most of his life in Southern California and moved to Boston in March 2007, where he stayed until spring of 2010. Boyd later relocated to Europe for a year, splitting his time between Paris and Tuscany. Boyd's writings are largely based on his life experiences. He has written seven books including, "Eat, Walk, Write: An American Senior's Year of Adventure in Paris and Tuscany", "Digging Deep: A Writer Uncovers His Marriages", "Unexpected Love and Other Stories", and his latest publication "Retirement: A Memoir and Guide." Boyd maintains a riveting travel blog "Boomers and Seniors" in which he discusses his travels and recommends economical travel options for baby boomers and seniors. To learn more about Boyd visit http://boydlemon-writer.com/