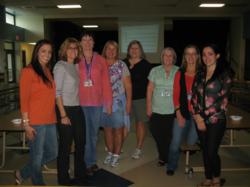 We've all dealt with cancer in one way or another, and we want to see a cure found
Palm Harbor, FL (PRWEB) April 03, 2013
Ozona Elementary staff and students know what it's like to lose a loved one to cancer—families and teachers have all been affected by cancer in some way, students losing a parent, or students and teachers even suffering from the disease themselves. Just a few years ago, a beloved Ozona teacher succumbed to cancer after a long and difficult fight. Last year, the school decided it was time to join the fight in ridding the world of cancer and bringing more awareness to the illness. Ozona Elementary has formed team "Ozona Ospreys" to participate in the 2013 Relay For Life of Palm Harbor. Team Ozona Ospreys has already raised over $1,200, and hopes to raise much more. All their funds have been donated directly by staff or families of Ozona Elementary.
Ozona Elementary first participated in Relay For Life in 2012, and chose to make the occasion a yearly tradition. Now in their second year of involvement, the Ozona Ospreys are looking to provide comfort and hope to the staff, students and families who have been afflicted by the disease.
Team Captain Pamela Bridges has been impacted in more ways than one, with six family members—including her twin sister—having been stricken with cancer. Along with fellow staff members who have battled cancer and won, Bridges has made it her mission to fight against what she terms a "cruel disease."
"Relay For Life is such an important cause for Ozona [Elementary] to support," Bridges said. "We've all dealt with cancer in one way or another, and we want to see a cure found."
Team Ozona Ospreys has been fundraising since September.
●The elementary school has held "Wednesday Relay For Life," a day on which teachers donate $1 to wear jeans to work. They are currently celebrating "March Jeans Madness," where teachers donate at least $16 ($1 per day) to wear jeans on the 16 school days in March before spring break.
●The team also held a "Relay for Life Family Bingo Night" for Ozona Elementary families. Attendees donated $1 per bingo card to play, with the chance to win a small prize. For a $1 donation, students participated in a drawing to win a lunch with the principal.
For a fun way to entertain the crowd and continue fundraising throughout the actual Relay For Life event, the Ozona Ospreys will have a karaoke booth onsite.
The projected number of new cancer cases in 2013 reaches over 100,000 in Florida alone, with over half a million people expected to succumb to the disease this year (1). With such a large number of new cancer cases every year, residents of over 20 countries participate annually in Relay For Life, an event formed to increase awareness of cancer and fund research for a cure.
Relay For Life is an 18-hour overnight event held by the American Cancer Society with the purpose of honoring cancer survivors and remembering loved ones lost, while also raising money to help find a cure for the disease.
Relay For Life of Palm Harbor begins at 6:00 PM on April 12, 2013, at the Palm Harbor University High School track. The event currently has 24 teams and 203 participants, and is expected to grow even more in the upcoming weeks.
To find out more information about Relay For Life of Palm Harbor, visit http://www.relayforlife.org/palmharborfl.
About Relay For Life:
Relay For Life is the American Cancer Society's signature volunteer-driven fundraising event. Relay For Life began in 1985 when colorectal surgeon Dr. Gordon Klatt decided to raise money for the American Cancer Society in honor of his patients by walking around a track over a 24 hour period. Today, Relay For Life events are held in more than 5,000 communities spanning 21 countries, and have raised an estimated $3 billion+. All proceeds go to funding cancer research, with the aim of eradicating the disease. In addition to fundraising, the event raises awareness of the disease and furthers the American Cancer Society's efforts to save lives by helping people stay well, helping them get well, finding cures, and fighting back. More information on Relay For Life is available at http://www.relayforlife.org.
About the American Cancer Society:
The American Cancer Society is a nationwide, community-based, volunteer health organization dedicated to eliminating cancer as a major health problem by preventing cancer, saving lives, and diminishing suffering from cancer through research, education and advocacy. The American Cancer Society is the nation's largest non-governmental investor in cancer research, contributing about $3.4 billion to date. Thanks to their efforts, more than 11 million people in America who have cancer will be celebrating their next birthday. To learn more about the American Cancer Society, visit http://www.cancer.org.
(1)"Cancer Facts & Figures 2013." Cancer Facts & Figures 2013. American Cancer Society, n.d. Web. 21 Mar. 2013. cancer.org/research/cancerfactsfigures/cancerfactsfigures/cancer-facts-figures-2013.