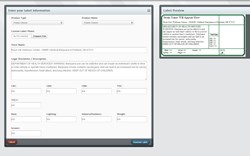 "Without proper knowledge of the medicine patients are consuming, one can truly never know what their medicine is composed of. With our efficient labeling system, we hope to educate patients in a thorough manner." -John Nicolazzo, C.O.O. of StrainBrain
(PRWEB) April 04, 2013
PotLocator.com, a subsidiary of The Medical Cannabis Network, in affiliation with StrainBrain, has announced the forthcoming of a cost-effective solution that solves the ongoing problem of medical cannabis not having the proper labeling to educate the patient who is using the medicine. With the implementing of the StrainBrain labeling system, this will put an end to the scrutiny that many states face for not having proper information labeled on each dram of medicine that is given to patients.
The StrainBrain label generator is a new labeling system implemented within the PotLocator community that is aimed at advancing and legitimizing medical cannabis by creating standard size labels that dispensaries, collectives and wellness centers can print and stick on their medicine. This concept of labeling a patient's medicine is one that has come into recent debate across the country, as it is the same concept of going into a bar and asking for a drink. One does not walk into a bar and ask for just any drink because chances are, they will not know whether they are receiving a pint whiskey or a glass of chardonnay. This same concept is in-line with that of medicinal cannabis, as different strains of marijuana have different potency levels and different uses for that specific strain. A patient's pallet for their medicine is specific, and when having a bud tender pick out a strain they would enjoy, it requires the same decision-making logic necessary to order a drink.
In many areas of the eighteen states where cannabis has been made legal for medicinal purposes, the consumers are left entirely uninformed and lack proper anecdotal information that should be express on their medicine's label. Each label provided through StrainBrain's label generating system sufficiently supplies all a patient needs to know about their medicine. Each container of medicine that has a StrainBrain label on it will list the name of the marijuana strain, what conditions the plant was cultivated in (indoor or outdoor), what type of lighting the plant underwent and also the medicine's lineage of either indica, saliva or hybrid. Labels also provide sections for the patient's identification number, storage ID, caregiver's name (if applicable to specific state), name of the patient's recommendation doctor, serial number and dispensary address.
The most interesting part however, remains in that of the label's medicinal marijuana data section. This section provides patients with exceptional insight on a specific medicine's THC (tetrahydrocannabinol) level, CBD (cannabidiol) level, THCV (tetrahydrocannabivarin) level, CBN (cannabinol) level and CBC (cannabichromenes) level. All of these factors play a major role in the development and use of medical marijuana. These components listed on the StrainBrain label are essential to figuring out what strain is best for patients suffering from specific chronic and debilitating conditions. By breaking down each factor in a patient's medicine, the StrainBrain label proves to be both educating and informative. When taking into consideration all modern growing techniques and available medical marijuana strains, plants are yielding exceptionally more potent buds today than years in the past. Reasons like this are why the necessity of labels should be implemented into the medical marijuana industry.
Aside from featuring a slew of essential information to properly choosing and using a specific medicine, the StrainBrain label generating system also features a QR code, or quick response code, that is similar to that of a bar code. Each label presents its own QR code thatpossesses a barcode which is optical machine-readable and has attached information to each item that is related to the product entered into the QR code system. Here is where patient's can find various different bits of information on their medicine if their label initially lacks all necessary facts. These QR codes are directly associated with PotLocator and can feature a live inventory of a specific medicine from a medical marijuana dispensary located within the PotLocator network.
The StrainBrain labeling system in association with PotLocator is a medium that is meant to provide a system of checks and balances to the many patient's and collectives located within the medical marijuana industry. By providing what growing mediums were used, what lighting fixtures were used and what type of cannabis a patient is using, this creates a direct relationship for patients and their medicine. Although the medical marijuana industry does not have a system of set standards and expected benchmarks, PotLocator and StrainBrain hope to bring a sense of legitimacy and organization to the industry by directly educating the patients and providing dispensaries, collectives and resource centers with informative medicine labels to ensure their medicine is the finest it could possibly be.