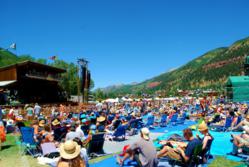 The 40th Annual festival promises a magical four days of only-in-Telluride performances.
Telluride, Colorado (PRWEB) April 03, 2013
The best weekend of the year will be here in no time. For 40 years, Festivarians have been flocking to Telluride's Town Park during the Summer Solstice to pay tribute to one of the greatest forms of American roots music: Bluegrass. 13,000 foot peaks, sunshine, Killer Flank Steaks, free Workshops, campsite hoedowns, happy people, ice cold New Belgium brews, late night NightGrass parties, and 4 days of the best acoustic adventures in the country.
Haven't been to Telluride? The town was founded in 1858 after gold and silver were discovered, Butch Cassidy robbed his first bank here, Nikola Tesla selected the site to build the world's first power plant, hippies re-settled these lands in the 60's, skiing arrived in the 70's, real estate agents invaded in the 80's, Tom Cruise, Oprah and Oliver Stone call it vacation, and Tim McGraw even wrote a song about it... and on the Summer Soltice, this small mountain town kicks off one of the most-anticipated festival lineups in the nation.
With the lineup additions of Mumford and Sons, The String Cheese Incident, Dispatch, Leftover Salmon, Feist and many more amazing musicians, this year's 40th anniversary fest undoubtedly sold-out in record time. In minutes, actually. Weren't able to get tickets or lodging? Telluride.com is here to help.
Telluride.com is giving away two, 4-day passes and 4 nights lodging at the Aspen Street Inn to one lucky winner for the sold-out 40th Telluride Bluegrass Festival, June 20-23, 2013:
Click Here to Enter on Facebook
About Telluride.com
Telluride.com is owned and operated by Telluride Alpine Lodging - the longest-standing, locally-owned and operated lodging company in the Telluride region. Offering a wide selection of hotel rooms, vacation homes and condominium rentals in both town & Mountain Village, Telluride.com is the only place to look to find the perfect Telluride vacation rental.
Media Contact:
Hart Roberts
Marketing Manager
(970) 728-3388, ext. 155
Hart(at)Telluride(dot)com
@hartlroberts
###