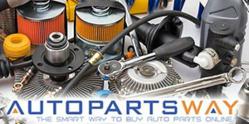 We already offer the largest selection of OEM and aftermarket parts in the country, the addition of six brands to our repertoire only builds on the great service and part availability that we offer to our customers and makes our store even stronger."
(PRWEB) April 05, 2013
AutoPartsWAY.ca, Canada's largest automotive online parts store, has added additional brands to complement its existing vehicle applications.
Canada's biggest automotive parts store just got a whole lot bigger. AutoPartsWAY.ca, the country's largest automotive online super store which offers OEM and aftermarket auto parts at discount prices, has announced that it has just added six new brands and about 520,000 new applications to its existing voluminous product catalog. The addition allows AutoPartsWAY to better serve its customers and cement itself as Canada's one-stop auto shop.
Prices at AutoPartsWAY.ca are up to 80 percent off actual retail prices and are free of duties and taxes, since all parts are located in Canada. Additionally, the store's large nationwide fulfillment center network allows parts to be delivered within one to three days of purchase to most locations across the country, whether you're in Calgary or Montreal. Shipping is free on orders that are more than $100.
To purchase a part, customers simply select their vehicle from AutoPartWAY.ca drop down menus. Doing so will bring up every available part on the vehicle, where customers can then browse and select the part based on their vehicle specifications. It's easy and hassle-free to use and ensures that customers get the right parts at the best prices conveniently. And now there's even more parts and brands to select from.
For more information about Auto Parts WAY, to get started shopping and to see a variety of other auto offerings, such as repair manuals, tech tips and auto forums, visit http://www.autopartsway.ca or http://www.autopartsway.com.
###
About Auto Parts WAY
AutoPartsWAY.ca is Canada's largest online auto parts store and offers hundreds of thousands of vehicle applications in everything from brake parts to transfer cases. Parts are purchased over the company's secure website and delivered to your home or business within one to three business days. Visit Auto Parts WAY at http://www.autopartsway.ca or at http://www.autopartsway.com.