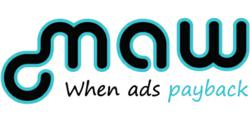 Our advertisers only pay for the ads that receive feedback—meaning no money is lost. Businesses are then armed with the results to create valuable ad campaigns, while consumers have a chance to voice their opinion and be paid for it
Tampa Bay, FL (PRWEB) April 03, 2013
Once a key player in internet sales, Groupon has experienced sliding revenue and stock value in the current economy (1). The complaint has been that Groupon has not found a way to market for businesses that both maintains Groupon's revenue requirements and helps businesses receive a high return on investment. Conversely, MobAdWin, which stands for Mobile-Advertising-Win-Win, is a new mobile app that is capitalizing on that misfortune. Using Tampa Bay as its proof of concept region, MobAdWin studied Groupon and developed its business model to combat the issue that businesses faced. Then they went a step further, and also provided consumers with a monetary incentive to view and rate advertisements.
How it works on the Consumer side:
●With MAW, consumers download the free app and answer questions to create a profile.
●Once the profile is created, users begin to receive ads from businesses based on their answers to the profile questions.
●MAW pays users to rate and review the ads that they watch.
How it works on the Business side:
●For businesses, MAW only charges for the amount of ads that were viewed and rated by consumers.
●Business owners select their target audience by demographic, geographic, interests, and other factors.
●The business owner then decides on a budget, which is generally $1 per person reached.
Mobile advertising to date has only been a one-way proposition—to the consumer—and has provided no opportunity for consumer interaction, leaving little assurance that advertisers would actually reach their target audience. Alex Dammous, MAW co-founder, recognized the disconnect between advertisers and consumers in the mobile ad space. MAW was created so businesses could ensure that their ads reach their target market while also producing a high payoff.
"Businesses want advertising that is worth the investment, and consumers only want to see ads that are of interest to them," Dammous commented. "Our advertisers only pay for the ads that receive feedback—meaning no money is lost. Businesses are then armed with the results to create valuable ad campaigns, while consumers have a chance to voice their opinion and be paid for it."
MAW is a new efficient way to advertise, providing a line of communication between consumers and advertisers. MAW is currently being offered to iOS and Android users.
For more information as a consumer or a business, visit http://www.mobadwin.com.
About MobAdWin:
MobAdWin(MAW) was established by Alexandre Dammous, a licensed attorney in the European Union, certified mediator in the U.S. and international law consultant who completed a masters in international law from Stetson and his JD from a Université de Liège. His partner, Renaud Migeot, is a former senior executive banker with a specialization in securities. Together, these two experienced businessman realized that advertising wasn't working the way they knew it should be. MobAdWin is the first and only win-win marketing platform, and is innovative in the interactive mobile-marketing world. The users and advertisers interact, with almost all costs shared with the customers. The users earn cash and perks (discounts, special offers, gifts) and decide when and how they receive the ads via smartphone. The advertisers truly interact with the customer base. MAW is currently available as a free download on both iOS and Android.
(1) "Can Groupon Get Its PR Mojo Back?" Bulldogreporter.com. N.p., 3 Mar. 2013. Web. 22 Mar. 2013. bulldogreporter.com/dailydog/article/can-groupon-get-its-pr-mojo-back-amid-sliding-revenue-and-stock-value-and-increasing.