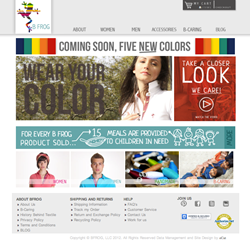 B FROG launched its website a few weeks ago, and we are very excited to be working with Amazon.
Miami, FL (PRWEB) April 07, 2013
B FROG's new site offers unique, progressive and colorful apparel to consumers around the world. In building their site on Amazon Webstore – they've done an excellent job incorporating this unique and colorful design into their new site.
Company Name: B FROG
URL: http://www.bfrog.com
Type of Products: Apparel, Clothing, Shirts, Polos
There are a few things Amazon likes about the new site at BFROG.com:
The site is crisp, clean and very easy to navigate. Its simplistic store design layout, along with eye catching images allows users to easily understand their brand story and the products they offer.
Awesome job emphasizing their brand pillar. Directly placed on the homepage and easy for site visitors to see.
Product focused category pages. While most category pages need product titles and prices, B FROG instead has stripped off the prices and titles on their product category pages – allowing users to focus solely on the products they offer and not the pricing.
High-quality product images. It's very clear that B FROG spent the time to capture high-quality product images. It's noticeable when customers use the "roll-over zoom" feature it allows them to get a sense of the product almost as if they were touching it in person. This can be a key selling point when selling products online.
Nicely integrated blog. Users would never know their blog (blog.bfrog.com) was hosted on WordPress. They have done a nice job integrating the blog into their navigation bar, and applying similar styling to match their site.
In Their Own Words:
Christian Cremer, co-founder of B FROG, had this to say:
"Navigating in Amazon's Seller Central is very friendly and no programming skills are required. Although it's a lot of information, you can control everything from there.
I'm very happy to be working with Amazon. I decided to work with Amazon for three main reasons:
Integration: Instead of working with many suppliers I decided to work with one: Amazon.
Credibility: Being hosted by the worlds biggest retailer gives consumers credibility on the product my website is selling.
Simplicity: Now I can occupy my time with doing what my business is all about, which is designing and producing unique, trendy and colorful apparel.
B FROG launched its website a few days ago, and we are very excited to be working with Amazon. Before we used to have a website hosted by another company and it gave us a lot of problems—since we started working with Amazon, everything is working great. Happy to be Amazon's client."
http://www.webstoresellmore.com/2013/02/webstore-review-b-frogs-new-site-brings-unique-and-colorful-design-to-ecommerce/