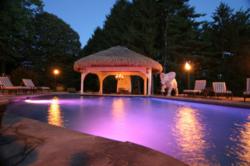 Monogram Featured on HGTV
Allentown, PA (PRWEB) April 05, 2013
Monogram Custom Homes and Monogram Custom Pool's award winning Bourbon Street night club and grotto swimming pool project have been featured on HGTV's Million Dollar Rooms series.
Monogram Custom Pools has received numerous awards for their swimming pool designs in the Lehigh Valley, PA area. Their pools, when combined with Monogram Custom Homes award winning home designs, has garnished both local and national media attention.
The latest TV coverage focuses on Monogram's unique construction of an underground nightclub in a private residence in Lehigh County, PA. It also features the concrete swimming pool complete with grotto, swim up bar, waterslide, and waterfall.
Monogram Custom Homes and Pools is the Lehigh Valley's most award winning builder, founded by 2 Lehigh University Alumni in 1994.
For more information about Monogram Custom Homes and Pools, contact Tony Caciolo at 610-282-0235 or visit their website at http://www.monogramcustompools.com