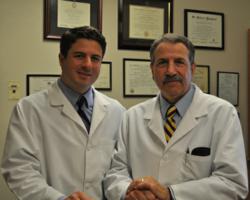 In today's high-tech society, people will do their research online before calling to make an appointment.
Schenectady, NY (PRWEB) April 18, 2013
Family dentists, Michael Perrino, DDS, and David Perrino, DDS, have announced the launch of a new, patient-focused website created by dental website design leader, ProSites, Inc. The doctors' practice, Perrino Dental Care, is utilizing the website to educate the community on the importance of oral health. The website includes a "links page" with informative dental resources as well as a "frequently asked questions page" to address common concerns on topics, ranging from oral hygiene to difficult dental procedures.
"Patients frequently want to ask questions about their dental health, but often forget these questions when they are in the middle of being treated," Dr. Michael Perrino says. "Patients, therefore, are able to get their questions answered directly from our website."
The website offers comprehensive information regarding restorative implant dentistry, general procedures, and cosmetic dentistry in Schenectady to help patients make better informed decisions about their oral health. Current and prospective patients now have access to information about participating insurance providers, patient forms, and other informative content when they visit the website. Some of the services offered by Perrino Dental Care include:
Cosmetic Dentistry
Restorative Implant Dentistry
Family Dentistry
The website also utilizes extensive search engine optimization techniques to reach patients and local consumers who are searching for relevant information about restorative implant dentistry in Schenectady.
"In today's high-tech society, people will do their research online before calling to make an appointment," Dr. David Perrino says. "If you're not represented online, you have no visibility."
About Perrino Dental Care:
Perrino Dental Care was established in 1978 by Dr. Michael Perrino and specializes in family, cosmetic and restorative implant dentistry in Schenectady. Dr. Michael graduated from the Columbia University College of Dental Medicine. Dr. David Perrino joined the practice in 2012 and also attended the same dental college. The doctors are both members of the American Dental Association, New York Dental Association, Fourth District Dental Society and Schenectady County Dental Society. For more information about Perrino Dental Care, please visit the website at perrinodentalcare.com.