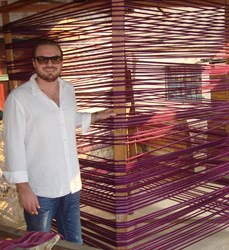 We wanted to deliver these beautiful textiles to the world but also to give back to children in need
Miami, FL (PRWEB) April 07, 2013
Christian Cremer was born in Guatemala in 1982. He obtained a degree in International Relations and Commerce from a university in his home country. During his studies he and college girlfriend co-founded a food stand that made grilled burgers, the company was later sold and Christian was hired for a sales position and later promoted to a marketing position at Kimberly-Clark, he worked there for three years
After being layoff from the company he bought a percentage in a labels manufacturing company and became sales manger; during this period he also co-founded an SMS Telecom company called Blue Orange Networks, sold to a media group one year later.
Christian moved to Florida to study and 18 months later obtained a Master in Business Administration and Entrepreneurship. During his studies in a class called Venture Creation he had an assignment in which every student had to create a company, so he and brother Steven created B FROG, launching the company one year later.
B FROG is a company that mixes distinct types of textiles creating unique, progressive and colorful apparel to consumers around the globe all while donating a portion of sales to improve the lives of children in need. B FROG started a collection with four different polo shirts each one with two different types of handmade Mayan details and five different scarves for men and women. Cremer brothers did extensive research in order to achieve a high quality product which doesn't fade when washing, that has less shrinkage and is made of softer and more durable thread, comfortable, fresh and is 100% cotton.
The company will add five new shirt colors to the collection also wallets, bags and long-sleeve shirts. Their first step is to expand their polo shirt variety. B FROG clothes are available online in different retailers and has also started distribution to trendy boutiques and retail stores. It seems like B FROG collaborators have done a pretty good job, they have integrated fashion and culture. This time the Cremer brothers will launch spring/summer colors such as: Poppy Red, Monaco Blue, Nectarine, Lemon Zest and Emerald.
Cremer's inspiration came from the rural communities inside Guatemala, where the majority of the population produce Mayan handmade textiles, which are unique in every way, holding the history of their Mayan ancestors in every thread.
The traditional Mayan Weaving is known as Jaspe; it is constituted in a form of knots, holding a variety of colors in every single thread. Since this traditional textile is sewed by hand, it is considered a form of art that without perfection all its figures and patterns are lost.
Mayans believed that within these textile patterns there was a form of protection from outside forces, or a guarantee of procreation and wealth.
This art is passed from generation to generation that sends us back to the times of the Mayan civilization. Most of the weaving takes place in Guatemala's highlands, where handmade products represent a very important economic activity.
As the visits to these town became more often and the reality came to surface; getting to know that most of the people of these towns grew up under desperate circumstances with no food or water to survive then B FROG's mission became clearer; we wanted to deliver these beautiful textiles to the world but also to give back to children in need.
With every B FROG product sold 15 meals are donated to children in need. The company wants to make sure the children receive the meals directly. By distributing meals in schools B FROG makes sure the children receive the fortified blended meals. It has been proven that children that receive proper nutrients increase class participation and develop better intellectual skills.
Our hope is to grow big enough to help all the children in the world, but that is a mission we all need to be part of.