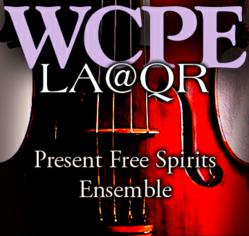 New music is alive and prospering at the Free Spirits Ensemble concerts.
Wake Forest, NC (PRWEB) April 03, 2013
WCPE Community and Arts Liaison Tara Lynn announces an event in WCPE Radio's Local Arts Series in collaboration with Quail Ridge Books and Music. Free Spirits Ensemble presents Tomorrow's Classics Wednesday, April 10, 2013 at 7:30 p.m. at Quail Ridge Books & Music, 3522 Wade Avenue, Raleigh, NC.
"New music is alive and prospering at the Free Spirits Ensemble concerts," offers Lanette Lind, Artistic Director.
This hour-long exploration of influences on 20th century music includes both lecture and performance elements. The Free Spirits Ensemble will perform April 14 at the Halle Cultural Art Center. At Quail Ridge, they will play "Milonga del Angel" by Astor Piazzolla and excerpts from the April 14 concert, among others. In this intimate setting, the audience is encouraged to interact with the performers. The event is free and open to the public.
"We search out and present the new romantic music, jazz-rock-classical fusion, and Latin tangos, to our audiences," adds Lind, who is also the group's pianist.
The Free Spirits Ensemble of the Raleigh Symphony Orchestra, which gave its first concert in September 2001, typically presents six concerts each year. The ensemble's mission is to present music of our time and, primarily, of our hemisphere. By playing music that is accessible to the audience, the ensemble hopes to encourage interest in new music. On occasion, Free Spirits Ensemble provides an opportunity for composers to attend its performances, and to interact with the audience in order to help them realize that tomorrow's classics are being written today.
About The Local Arts Series by WCPE and Quail Ridge:
Co-sponsored by WCPE FM and Quail Ridge Books and Music, the Local Arts Series is a monthly free event in which a local arts organization will talk about its mission and one of its upcoming performances. Designed to be as entertaining as it is educational, each event also includes a performance aspect. WCPE and Quail Ridge Books and Music both look forward to working with more arts groups in the future and, together, focusing on community educational efforts.
Quail Ridge Books and Music, 919-828-1588, 3522 Wade Avenue, Raleigh, NC, is an independent shop with a friendly, knowledgeable staff dedicated to providing the best in customer service. Their Music Department specializes in classical, jazz and traditional music and presents a diverse program of free concerts.
With a 30 plus year history, WCPE 89.7 FM is a non-commercial, 100 percent listener-supported, independent station dedicated to excellence in Great Classical Music broadcasting. WCPE is heard worldwide on the Internet in multiple formats, including the next generation IPv6. Because WCPE receives no tax-derived support, the station conducts two on-air fundraising campaigns and two major mail-out campaigns per year to raise needed operating funds. For more information, visit http://www.TheClassicalStation.org or call 919-556-5178.
For Immediate Release
Media Contact:
Curtis Brothers
919.556.5178
curtis(at)TheClassicalStation(dot)org